Home
'SERBIA IS NOT YOUR COUNTRY'
In his evidence at the trial of General Vlastimir Djordjevic, Kosovo Albanian Ndrec Konaj describes how he and his family were expelled from his house in Pec 'in five minutes'. They were taken by bus to the Albanian border. The transportation was organized by the army and police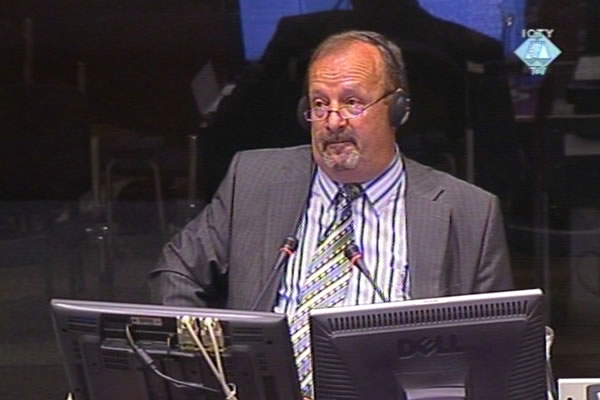 Ndrec Konaj, svjedok na suđenju Vlastimiru Đorđeviću
As the trial of Serbian police general Vlastimir Djordjevic charged with Kosovo crimes in 1999 continues, the prosecution has begun calling evidence about the expulsion of civilians in the Pec municipality. The first to testify was Kosovo Albanian Ndrec Konaj. In late March 1999, Konaj and his family were deported to Albania. The statement Konaj gave to the OTP investigators in June 2001 and the transcript of his evidence at the trial of Milan Milutinovic and five other Serbian officials in October 2006 were admitted into evidence.
Konaj recounted Serbian paramilitaries entered his house in Karagaq, a neighborhood in Pec, on 27 March 1999. They ordered the witness to move out in five minutes and head for Montenegro. The witness and his family obeyed. Army and police personnel controlled the movement of refugees en route, the witness said. At one point the witness and his relatives were stopped and men in civilian clothes beat them up. Then they were ordered to return to the center of Pec where several thousand persons had already gathered. All of them were then put on dozens of buses and trucks and headed to the Albanian border.
The witness and his family first traveled by bus to Prizren where the driver, a VJ soldier, threw them out. The driver told them to go to Albania adding 'Go there, this is not your country, this is Serbia'. A group of soldiers and police officers met them at the border ordering them to put all their personal documents into a wooden box. Konaj's wife, two daughters and other relatives did that, but Konaj managed to 'smuggle' his identity card. As Konaj proudly said, he still has that card.
In his cross-examination, Vlastimir Djordjevic's defense counsel tendered into evidence the statement Konaj gave the OTP investigators in April 1999. The defense counsel pointed to a series of minor discrepancies between that statement and the one Konaj gave in 2001. He then proceeded to ask the witness about what had happened in his family from the World War II to this date, about the business careers of the witness's sons and other issues outside of the scope of the indictment.
The cross-examination reached its height when the defense counsel asked the witness why he hadn't done his national service in the former JNA. Konaj claimed he had never received the call-up papers and didn't want to volunteer. Defense counsel Veljko Djurdjic then told the witness there was a saying from, as Djurdjic put it, 'our region' to the effect that 'those who are not able to serve in the army are not able to get married'. 'Then how come that I am married with four children', the witness replied adding that he was offended by the defense counsel's comment. The defense counsel promptly apologized. The whole exchange led the presiding judge Parked to conclude that the whole line of examination did not have much to do with the case.