Home
KILLED AS CIVILIANS, BURIED AS SOLDIERS
According to Hasbi Loki, prosecution witness testifying at the trial of General Vlastimir Djordjevic, the twenty-odd men from the village of Kotlina were wearing civilian clothes on 24 March 1999 when they were killed; they were nevertheless buried in the 'martyr cemetery' with the KLA insignia on their tombstones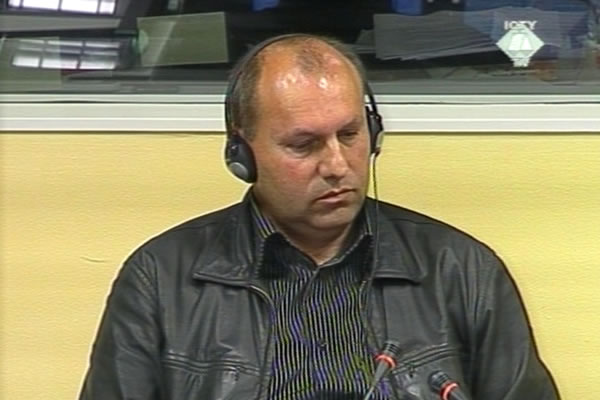 Hazbi Loku, svjedok na suđenju Vlastimiru Đorđeviću
The indictment against former Public Security Department chief of the Serbian MUP Vlastimir Djordjevic charges him with crimes against Kosovo Albanians in the spring of 1999. Among the crimes is the killing of at least 17 men from the village of Kotlina in the Kacanik municipality. The prosecution called today a former teacher in the village school, Hazbi Loku. Loku claims he saw when a group of men were captured and executed.
On 24 March 1999, Serbian forces first shelled the village of Kotlina and then entered it, the witness recounted. He sought shelter in a nearby forest and from there, he saw soldiers and police officers capture about twenty men from the village. They kicked and hit the prisoners with rifle butts. The witness saw the captors take those men to a place in the forest where they were beaten up again and thrown into a hole. The witness then heard an explosion and saw smoke rising from that direction. This led the witness to conclude that explosive devices were thrown into the pit.
Loku fled to Macedonia with a group of Albanians. When he returned to Kosovo in August 1999, the bodies had been exhumed in the presence of an Austrian forensic team. The names of seventeen victims who have been identified so far are listed in the appendix to the indictment against General Djordjevic. After the exhumation, the bodies were buried in the KLA 'martyr cemetery' in Kacanik. In the cross-examination, the defense focused on this detail in the witness's evidence.
Defense counsel Veljko Djurdjic showed photos of graves of some of the men from the Kuqi, Loku and Vlashi families, killed in the village of Kotlina and buried in Kacanik. On their tombstones men are portrayed wearing uniforms with KLA insignia. According to Hazbi Loku, there were no soldiers in Kacanik and the 20-odd men he saw captured on 24 March 1999 wore civilian clothes.
Loku was cross-examined in a similar way as he gave evidence at the trial of Slobodan Milosevic for Kosovo crimes and the trial of six former Serbian officials headed by Milan Milutinovic. Loku maintained that the claim about the KLA presence in Kotlina was 'a lie'. The defense teams at the two trials corroborated this argument through the evidence of military and police generals Krsman Jelic and Obrad Stevanovic.
In February 2009, the Trial Chamber with Judge Bonomy presiding delivered its judgment in the trial of Milutinovic and five other Serbian political, military and police officials, noting that it was 'not convinced beyond reasonable doubt' that any of the men in the village of Kotlina had been murdered in the manner described in the indictment and recounted in Loku's evidence. The Trial Chamber only accepted that bodies were exhumed from a place identified by the witness.