Home
IMPATIENT PROSECUTOR URGES JUDGES
Special prosecutor amicus curiae call for urgent scheduling of the trial of French journalist Florence Hartmann charged with contempt of court. The defense 'slows the process down' with their pre-trial motions 'showing little interest" for the timely trial, MacFarlane contends.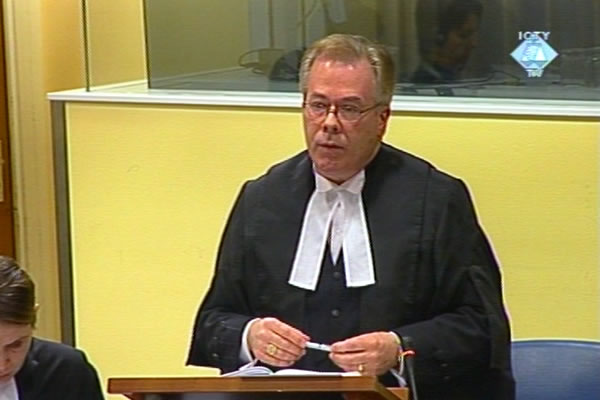 Bruce MacFarlane
Special prosecutor,
amicus curiae
, Bruce MacFarlane called the Special Chamber hearing the case of French journalist Florence Hartmann to 'forthwith issue a scheduling order' for the start of the trial on contempt of court charges. Former OTP spokesperson is charged with disclosing information on two confidential decisions of the Appeals Chamber which granted protected status of documents from the Slobodan Milosevic case. She did so in her book
Peace and Punishment
and in an article written for the Bosnian Institute, published after she no longer worked for the Tribunal.
In a harshly-worded motion, MacFarlane argues that the accused 'has little interest in exercising her right" to an expeditious trial corroborating this claim with the fact that the French journalist 'first postponed entering her plea and then refused to enter it at all'. Then, MacFarlane notes, Hartmann changed the defense counsel and got herself a defense team that – as MacFarlane put it – 'filed a torrent of procedural pre-trial motions' including a motion to disqualify two of the judges. This motion was filed only two days before the start of the trial scheduled for 5 February 2009.
This defense motion, the special prosecutor admits, was 'partially granted' and judges Daqun and Guney replaced judges Agius and Orie. As MacFarlane notes, throughout this time he has been 'ready to proceed to trial whenever the Chamber set the trial'. The motion accuses the defense of reviewing the work of others in its effort to "deflect the attention away from allegations concerning Hartmann's conduct and re-focus the proceedings onto the work of others".
MacFarlane concludes that Florence Hartmann not only 'showed little interest in being tried without delay' but 'made visible efforts to slow down the proceedings'. 'The facts of the case are clear', the special prosecutor maintains; the defense team had three months to prepare for a two-day trial and 'now it is time to schedule the start of the trial'.
Judging from their motions so far, where they accused the special prosecutor of conducting 'a careless, superficial and utterly defective investigation' and of 'abuse of judicial process', Karim Khan and Guenael Mettraux, the defense counsel for the French journalist, will pull no punches in their response to the impatient special prosecutor.