Home
DEFENSE: FLORENCE HARTMANN'S CASE SHOULD NOT BE RE-INITIATED OR CONTINUED
All decisions and orders issued by the previous Special Chamber – including the indictment itself – became null and void by the disqualification of the two judges, the defense of Florence Hartmann contends. In its motion Hartmann's defense urges the newly appointed Special Chamber not to proceed with the contempt of court case against the French journalist in the interest of justice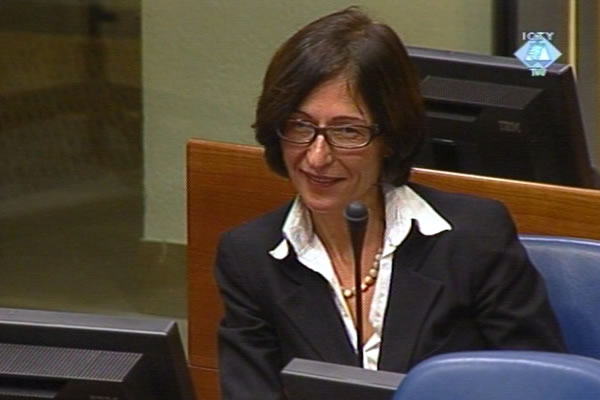 Florence Hartmann in the courtroom
Noting that in the final part of its mandate the Tribunal has more important tasks than to spend its precious personnel and material resources on the case against a journalist charged with disclosing the information that was already in the public domain, Florence Hartmann's defense has urged the new Special Chamber not to proceed with the contempt of court case in the interest of justice.
The French journalist's defense argue that the decision to disqualify judges Agius and Orie, issued on 25 March 2009, rendered null and void all the decisions and orders issued by the Special Chamber – including the indictment itself. Hartmann's defense has therefore called the newly appointed Special Chamber not to proceed with the case. The Chamber and its members, judges Guney, Daqun and Moloto, are urged alternatively to review the case against the French journalist and – in the light of new circumstances made known to them now – to rule that the initiation of the case would be 'unnecessary and unjustified'.
[IMAGE]4053[/IMAGE]In the 26 pages of their motion disclosed today, defense counsel Khan and Mettraux present in detail the arguments in support of their requests. First, Khan and Mettraux note, the investigation conducted by Canadian lawyer Bruce MacFarlane as the
amicus curiae
was 'partial, incomplete and unreliable'. The investigator
amicus curiae
failed to mention in his report to the Special Chamber that the information that the French journalist put in her book and the article had already been made public, including in ICTY public documents, the defense counsels continue. Hartmann only revealed that the documents existed, the defense argues; the fact that the French journalist didn't disclose their contents defines her act as 'insufficiently grave or serious' to be taken into consideration by the International Criminal Tribunal. The defense counsel also bring up MacFarlane's abuse of the process during the investigation, the unreliability of the evidence MacFarlane collected, his failure to investigate facts in favor of the accused and the fact that MacFarlane failed to disclose to the defense the statements of witnesses he intended to call in the prosecution case. Given the circumstances, the defense contends, to re-initiate the case against Florence Hartmann would run contrary to the internationally accepted standards of human rights and freedom of speech and would result in squandering of the Tribunal's precious resources in the final part of its mandate.
Finally, the defense counsels request an urgent status conference or a hearing where the parties will present their views on whether the case against the former OTP spokesperson charged with contempt of court for disclosing information on confidential decisions of the Appeals Chamber in the Slobodan Milosevic trial should be "continued or otherwise".