Home
FLORENCE HARTMANN'S DEFENSE WILL CALL FOR DISQUALIFICATION OF JUDGES
Because of a 'real apprehension of bias' and possible 'contamination' between the judges and the amicus curiae investigator-cum-prosecutor, the defense of French journalist charged with contempt of court will call for the disqualification of judges Agius and Orie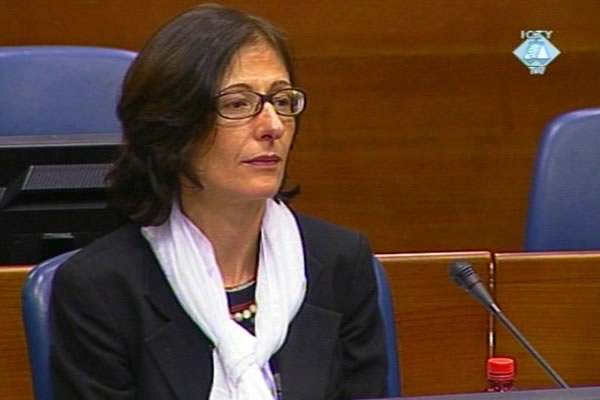 Florence Hartmann in the courtroom
English lawyer Karim Khan, defending French journalist against contempt of court charges, has indicated he will be filing a motion to disqualify judges Carmel Agius and Alphons Orie. Stressing it was 'nothing personal' and that it was 'a pleasure and privilege to work with the judges of such integrity', Khan said there was however a 'real apprehension of bias' because of the 'contamination' between the two judges and Bruce MacFarlane, of Canada, who was first appointed as
amicus curiae
investigator and then prosecutor in the Florence Hartmann case. The defense will not call for the disqualification of the third member of the Special Chamber, Judge Bakone Moloto, since he was appointed just a few days ago to replace Judge Van Den Wyngaert, who has in the meantime been elected a judge at the permanent International Criminal Court.
At the status conference today, the Special Chamber appeared in full in order to be able to rule expeditiously on the motions filed by the parties on the eve of the trial slated to begin on 5 and 6 February. The Chamber rejected the defense motions seeking the stay of proceedings because of abuses committed in the course of the investigation, and asking for a subpoena to be issued to prosecutor MacFarlane compelling him to give the defense a statement. The defense has indicated it will seek leave to appeal the decisions of the Special Chamber.
The defense has also asked for the trial to be postponed until the judges have ruled on the forthcoming appeals and the motion to disqualify the judges. The defense has also brought up problems with witnesses and a large number of documents that have yet to be translated, but the Special Chamber decided not to change the trial date, for now.
Florence Hartmann has been accused of having published, in her book,
Peace and Punishment
and in an article for the Bosnian Institute, information about two confidential decisions of the Appeals Chamber granting Serbia's request for protective measures for documents originating from Milosevic's Supreme Defense Council during the war in Croatia and Bosnia and Herzegovina. The defense claims that the Tribunal itself and the Serbian officials had already published the information before Hartmann did; MacFarlane, the defense goes on to contend, failed to inform the judges about this. The judges indicted the French reporter based on the results of his investigation.