Home
DEFENSE STRIKES BACK
The motion filed by the special prosecutor calling for urgent trial of Florence Hartmann 'has no merit, no valid legal basis, and is unnecessary and premature', according to Hartmann's defense. In its response, the defense qualifies the prosecutor's accusations that the defense is 'tactically delaying the proceedings' as 'unfortunate, gratuitous and quite simply, false'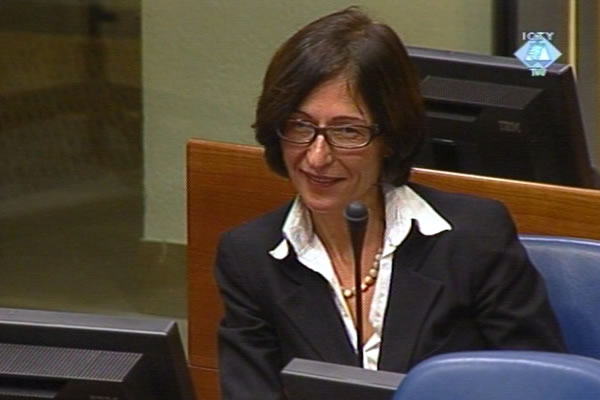 Florence Hartmann in the courtroom
As expected, Florence Hartmann's defense has not pulled punches in its response to the special prosecutor
amicus curiae
Bruce MacFarlane. In his harshly worded motion, MacFarlane accused the defense of 'slowing down the process with their pre-trial motions' and the French journalist of 'not being interested in an expeditious trial'.
Karim Khan and Guenael Mettraux, the defense counsel of the former OTP spokesperson say in their response made public today that they would 'have preferred to ignore the baseless and unnecessary comments' of the special prosecutor, but the comments "cast aspersions" upon William Bourdon, Florence Hartmann's first defense counsel who 'is not able to respond to them'. According to the defense, the special prosecutor attributes 'mala fide' to defense counsel Bourdon. Such 'gratuitous and unsubstantiated' accusations, the defense claims, goes "far beyond the proper exchanges of views" acceptable in proceedings before the Tribunal. The Code of Conduct obliges lawyers to 'respect the representatives of both sides in the proceedings as their colleagues, and to act fairly, honestly and courteously'.
As the defense put it, the demand that the case proceed to trial as soon as possible 'has no merit, no valid legal basis and should in any case be dismissed as unnecessary and premature'. When their motion for the disqualification of two judges was granted, the defense counsel note, all the decisions and orders issued of the Special Chamber – including the order to issue the indictment on contempt of court charges – became null and void.
The special prosecutor is responsible for the delays in the proceedings, the defense argues, as his shortcomings and abuses in the investigation and in the preparations for the trial forced the defense counsel to submit a number of motions; the Trial Chamber is yet to rule on them.
The defense counsel concluded that the case should not be 'rushed to trial' by preventing the defense from bringing up the defects in the investigation and from obtaining adequate legal remedies from the Trial Chamber. According to the defense, 'it would be most practical and efficient' if a status conference were to be scheduled where "parties would outline their positions as regard the continuation or otherwise of the proceedings" in the Florence Hartmann case.
Former OTP spokesperson is accused of having disclosed, in her book
Peace and Punishment
and in an article published by the Bosnian Institute, information about confidential decisions passed by the Appeals Chamber to keep under seal documents in the Slobodan Milosevic case.