Home
AVALANCHE OF MOTIONS BY HARTMANN'S DEFENSE
The defense of French journalist Florence Hartmann has already called for the disqualification of two judges and one senior legal advisor; now it is asking for permission to file appeals against three decisions of the Special Chamber sitting in her contempt of court case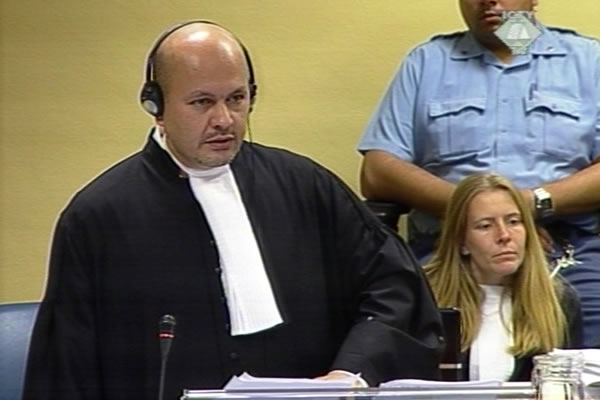 Karim Khan, new defence counsel of Florence Hartmann
Florence Hartmann's defense has outdone even Karadzic's legal advisor Peter Robinson with the pace and number of motions it has filed. Robinson's productivity has been unsurpassed until now.
The filing season was opened by defense counsel Karim Khan and Guenael Mettraux with the motion for disqualification of two of the judges and a senior legal advisor of the Special Chamber hearing the case against the former OTP spokesperson. Hartmann is on trial for contempt of court for having disclosed the information about confidential decisions of the Appeals Chamber in the Slobodan Milosevic case.
The public and redacted version of the motion to disqualify judges explains on some 30 pages the ways in which judges Agius and Orie were, as the defense alleges, 'directly and constantly' involved in the investigation and the issuance of the indictment against the French journalist. The close ties between special prosecutor Bruce MacFarlane and the Special Chamber through the senior legal advisor resulted in the 'lack of impartiality' of the judges and 'an appearance of bias against Florence Hartmann'.
According to the defense, the 'lack of impartiality' of the judges can be seen in the 'unreasoned' denial of a series of defense motions; the Chamber has thus refused to 'critically assess and evaluate the grave deficiencies in the investigative process'. This is why the defense has asked for permission to file appeals against the three decisions of the Special Chamber dismissing the defense motion to 'review' the Florence Hartmann case and to suspend the proceedings against her; the defense claims the special prosecutor is guilty of wrongdoing and has refused to disclose statements of the witnesses expected to give evidence at the trial.
The trial in the case of the French journalist was first scheduled for 5 and 6 February 2009, but was then postponed because of the motion to disqualify the judges. The new trial date will be announced later, and will depend on the decisions of the ICTY president on the motion to disqualify the judges and on whether the Special Chamber grants permission to the defense to file appeals against the motions it has dismissed.