Home
RECOMMENDATION TO DISQULIFY JUDGES IN THE HARTMANN CASE
After considering the motion submitted by Florence Hartmann's defense, the three judges sitting in the panel will recommend to the ICTY president to appoint new judges to replace judges Orie and Agius in the Special Chamber hearing in contempt of court case against the French journalist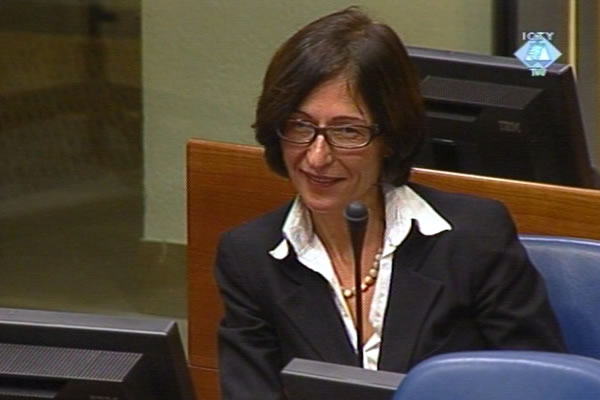 Florence Hartmann in the courtroom
The panel of three judges appointed to consider
the motion filed by the defense of Florence Hartmann to disqualify two judges
and a senior legal advisor in the Special Chamber hearing the case against the French journalist has ruled with a majority of votes to grant the motion in part. They will recommend to the ICTY president to appoint two new judges as members of the Special Chamber and replace judges Alphons Orie and Carmel Agius.
Members of the panel, the Tribunal's vice-president O-Gon Kwon, Judge Iain Bonomy and Judge Christoph Flugge, have relied on the Tribunal's Rule of Procedure and Evidence and the Practice Direction on Procedure for the Investigation and Prosecution of Contempt before the International Tribunal. Paragraph 13 of the Practice Direction stipulates that the 'the Chamber in which the contempt allegedly occurred shall adjudicate the matter unless there are exceptional circumstances'. If there are exceptional circumstances, then 'the case shall be transferred to another Chamber'.
Although they have rejected the defense argument on the partiality of the Special Chamber, the members of the panel, with Judge Bonomy dissenting, have ruled that the involvement of the Special Chamber in directing the investigation against the French journalist 'went beyond the issuing of general and purely administrative instructions'. This, the judges have explained, has resulted in the 'exceptional circumstances' from Paragraph 13 of the Practice Direction.
Judges Agius and Orie, according to the defense, had, through an unnamed senior legal advisor, established 'a close connection' with the special prosecutor amicus curiae Bruce MacFarlane; this has made them 'partial' and 'has resulted in prejudice against Florence Hartmann'. The panel of judges rejected the defense motion calling for the disqualification of the senior legal advisor ruling that the 'behavior of Tribunal's employees is not relevant for the evaluation of (im)partiality of judges'.
The Rules of Procedure and Evidence and the Practice Direction, the panel has concluded, are not contrary to the ICTY Statute and basic human rights protected by international customary law. These documents, the judges have ruled, contain provisions ensuring that a Trial Chamber act impartially in adjudicating essential issues in the contempt of court proceedings.