Home
GENERAL DOESN'T REMEMBER POSAVINA CORRIDOR
In Andjelko Makar's cross-examination, the prosecution tried to prove that it was in the best interest of Croats from both Croatia and Bosnia to send arms to the BH Army 2nd Corps; together, they could cut the corridor in Posavina through which Serbs were supplying weapons, ammunition and fuel to the Croatian and Bosnian Krajinas which were in their hands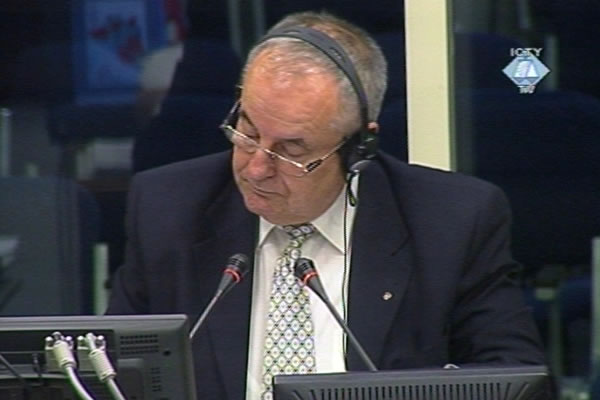 Anđelko Makar, svjedok odbrane Brune Stojića
In today's cross-examination of Andjelko Makar, former chief of staff in the BH Army 2nd Corps, testifying in the defense of former Herceg Bosna defense minister Bruno Stojic, the prosecution highlighted the strategic importance of the Posavina corridor in the north of BH. During the better part of the war, this was the only connection between Croatian and Bosnian Krajinas on the one side and Eastern Bosnia and Serbia on the other.
As the prosecutor Kimberly West implied, it was in the interest of Croatia and of Bosnian Croats to provide the BH Army 2nd Corps with weapons; they could then join forces and cut the corridor through which the VRS supplied its troops in the Knin Krajina.
The retired BH Army general first claimed that he never heard of the Posavina Corridor. When the witness finally agreed that it had existed, he said that he would prefer to call it the 'death road' as it was under constant fire of the BH Army 2nd Corps. In the witness's opinion, Serbs 'were fools' for using that corridor at all; they should have supplied the Bosnian and Knin Krajinas 'by air'.
The prosecution went on to produce documents that unequivocally show the HVO took part in the attacks launched by the VRS against the BH Army. The document of the HVO 111th Brigade of 7 July 1993 addressed to Bruno Stojic and Mate Boban speaks about Serbs and Croats jointly attacking Muslim positions in Zepce, Maglaj and Tesanj.
The witness first said that the prosecution 'is speculating' that the Serbs and Croats had dealings during the war. The witness's 'general opinion' is that in the area of responsibility of the 2nd Corps, the HVO cooperated with the BH Army throughout the war. The witness could not speculate about what went on in other areas.
In his reply to the judges' question, the witness maintained that 'as regards the whole of its territory' there was no generalized conflict between the HVO and the BH Army. The witness believes that the whole plan to create a 'greater Serbia' should be investigated and then look at who had a vested interest in causing conflicts between Croats and Muslims. 'The power of the former JNA's intelligence service should not be underestimated' here, the witness added .
Andjelko Makar's cross-examination continues tomorrow.