Home
BH ARMY GENERAL AND LOGISTICS OFFICER DEFEND STOJIC
Two former BH Army members who took part in supplying weapons from the HVO logistics center in Grude to Sarajevo testified today in the defense of former Herceg Bosna minister Bruno Stojic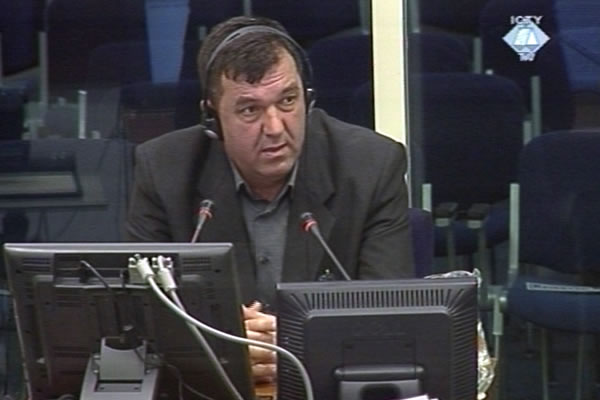 Hamid Bahto, svjedok odbrane Brune Stojića
As the defense of former Herceg Bosna minister Bruno Stojic continues its case, retired general Hamid Bahto and former logistics officer Nedzad Cengic, from the BH Army, gave evidence today. Both witnesses took part in the movement of weapons from the HVO logistics center in Grude to Sarajevo.
In his examination-in chief Bahto said that Alija Delimustafic and Bruno Stojic were in charge of providing weapons for the defense of BH against the former JNA in 1992. As Bahto put it, the weapons were bought in Slovenia and then transferred to the HVO Grude logistics center via Croatia. From there the weapons were distributed throughout BH.
When the witness first went to Grude in the spring of 1992, he took receipt of about a thousand automatic rifles, ammunition and other materiel and equipment; in his words, it was the key to the future defense of Sarajevo. The weapons were taken in the same way, the witness explained, by other members of the Territorial Defense and the BH Army from Gorazde, Trnovo, Foca, Visegrad, Brcko, Travnik, Bugojno and other towns. Among those officers was a neighbor and a good friend of the witness, Senad Sahinpasic.
When the judges asked him if he had considered the HVO as enemy when the Croatian-Muslim conflict broke out in 1993, the witness replied that local commanders were responsible for the skirmishes between the HVO and the BH Army; those clashes were local and of low intensity. The witness believed that the majority of the BH Army leadership shared his opinion.
In the cross-examination, the prosecution noted that the HVO provided weapons to the BH Army as it fought against the common enemy, the Serbs. In an effort to contest the credibility of the witness the prosecution noted that criminal proceedings were instituted against him for alleged smuggling of weapons from BH to Kosovo. The witness was defended by Senka Nozica, who is now representing the accused Bruno Stojic. In the re-examination, Nozica emphasized that the witness had been acquitted on all arms smuggling charges.
[IMAGE]3988[/IMAGE]Nedzad Cengic, former logistics officer in Vikic's special unit was the next witness. In February 1993, Cengic took over two trucks loaded with weapons and delivered them to Sarajevo. Stojic and generals Praljak and Petkovic received him warmly and gave him everything he had asked for, he said, adding that they were kinder to him and Faruk Drina who accompanied him than to the Fourth Corps troops in Eastern Mostar. Next time the witness went to Grude in late February 1993, he didn't return to Sarajevo at all; Stojic helped him to travel Sweden where his family was.
In the cross-examination, the prosecution tried to prove that the HVO provided weapons for the defense of Sarajevo because many Croats lived there, including some 2,000 members of Croatian brigade.