Home
CAUSE OF BOSNIAN CROATS' FRUSTRATIONS
According to Ivan Bagaric, former assistant for health care of Bruno Stojic, head of the Croatian Community of Herceg Bosna defense department, the BH Army was seen as 'a victim' by the international community, which made the Bosnian Croats feel 'like 'Don Quixote': they were frustrated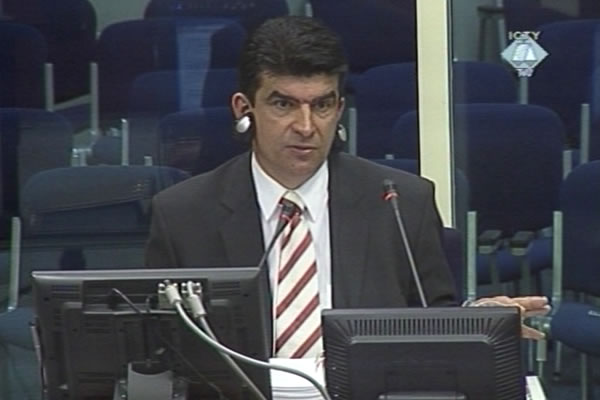 Ivan Bagarić, svjedok odbrane Brune Stojića
After the Easter break, the trial of the former Bosnian Croat leaders continued with the testimony of Dr. Ivan Bagaric, former assistant for health care of the accused Bruno Stojic, head of the HZ HB defense department.
In March 1992 Bagaric was appointed chief of the Main Medical Staff of the Croatian Defense Council (HVO). Some months later, it became part of the HZ HB defense department, headed by the accused Stojic. The witness served as the assistant for health care in the defense department, which later became the defense ministry, until the end of the conflict in BH in 1996.
Testifying in Stojic's defense, Bagaric noted that the HVO Main Medical Staff was set up at the initiative of a group of physicians, following the attack on the Serb forces on Croatia and the preparations for the aggression on BH, which became clear after the JNA attack on the village of Ravno near Trebinje on 1 October 1991.
In his examination-in-chief, the witness described the key role of the Main Medical Staff: to provide medical assistance to all those who needed it regardless of their ethnic background. Because of the shortage of medical personnel, his office had to show 'a spirit of openness' to all those willing to work in it.
Answering the questions put to him by Stojic's defense counsel Senka Nozica, the witness said that he had enjoyed a high degree of independence in the decision-making process, as had other Stojic's assistants in the defense department.
Stojic's defense noted that in early 1993 the Croats in Central Bosnia were in dire straits. Their position was made worse by the BH Army attacks on Vitez, Busovaca, Kakanj, Konjic, Fojnica, Zenica, Kiseljak and Kresevo. The witness accused the BH Army of expelling some 6,000 Croats from Travnik, Fojnica and Bugojno and of obstructing the negotiations on the evacuation of the wounded, 'all for all', as the HVO wanted.
The witness believes that the Muslim leadership deliberately obstructed the positive solutions the HVO proposed through international mediators in order to maintain the 'reputation of a victim'. Furthermore, the international institutions didn't do enough, in his view, to assist the HVO, while at the same time they responded with alacrity to all the demands of the Muslim side. This made the Croats feel like 'Don Quixote" –they were 'frustrated'.
The testimony of Ivan Bagaric, who served as assistant health minister in the BH Federation and has been in the Croatian Parliament since 2003 as a representative of all its Diaspora, will continue tomorrow.