Home
VICTIMS WERE NOT KILLED IN COMBAT
Forensic expert Jose Pablo Baraybar has drafted a report for the trial of General Vlastimir Djordjevic, concluding 'it's improbable or even completely incredible' that the Kosovo Albanians whose remains were discovered in mass graves in Serbia had been killed in combat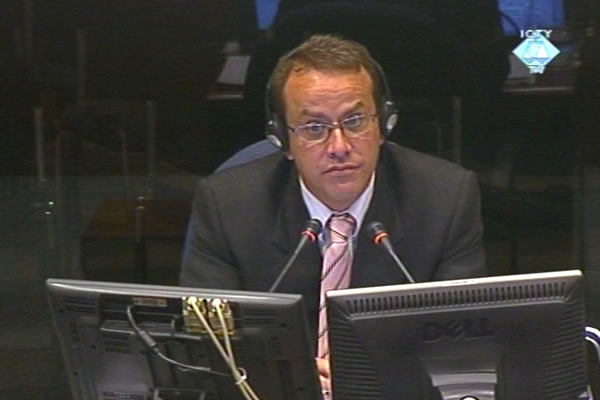 Jose Pablo Baraybar, svjedok na suđenju Vlastimiru Đorđeviću
Between 2002 and 2006, Serbian authorities handed over the remains of 889 Albanian civilians killed on Kosovo in the spring of 1999 to their families. The bodies were discovered in mass graves in Batajnica, Petrovo Selo and near the Perucac lake. The initial forensic analyses were done in Kosovo by a team from the UNMIK Office for Missing Persons, headed at that time by Peruvian pathologist Jose Pablo Baraybar. For the trial of Serbian police General Vlastimir Djordjevic, Baraybar drafted an expert report based on what the international forensic experts concluded then.
The prosecution argues that the bodies of Albanian civilians were clandestinely moved in trucks from Kosovo to Serbia. There they were buried in mass graves in order to cover up the crimes committed by the army and the police in the province. The indictment charging Djordjevic with the murder of thousands and deportation of 800,000 Kosovo Albanians in the spring of 1999 identifies him as a high-ranking police official who had 'a leading role in the implementation of the cover-up' by the transfer and secret burial of the bodies in mass graves in Serbia. At the time Djordjevic was chief of the Serbian MUP Public Security Department and assistant to the interior minister Vlajko Stojiljkovic.
In Baraybar's words, 'it is improbable or even completely incredible' that persons whose remains were discovered in Serbian mass graves had died in combat. There are several reasons, the witness clarified, and one of the most important is the absence of injuries caused by shrapnel. There are only 0.6 percent of them, whereas many bodies have gunshot wounds to the head. The most frequent cause of death in modern warfare is explosions of different kinds of projectiles. At the same time, the number of head injuries is usually very small as in combat soldiers tend to fire at 'the largest and not the smallest part of the body'.
Baraybar has already testified twice at the trials in The Hague, in the Kosovo Six trial, for the same crimes Djordjevic is accused of, and at a Srebrenica trial.
As the hearing drew to a close today, defense counsel Dragoljub Djordjevic began his cross-examination of the witness. The cross-examination will be briefly interrupted tomorrow when the Trial Chamber will hear the evidence of Austrian diplomat Jan Kickert. Baraybar's evidence is expected to be completed on Monday.