Home
PANDUREVIC DIDN'T HAVE TO 'WORRY ABOUT IT'
In his testimony in his own defense at the Srebrenica Seven trial, former Zvornik Brigade commander Vinko Pandurevic contends that General Krstic, Drina Corps commander, told him he knew what had happened to the prisoners from Srebrenica…but that he 'shouldn't worry about it"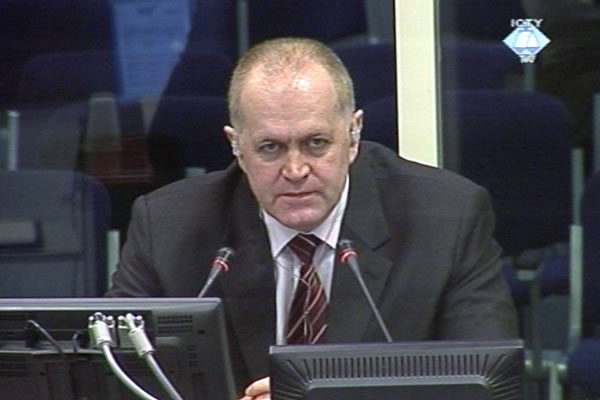 Vinko Pandurević u sudnici Tribunala
Reports in which Pandurevic expressed his discontent with the fact that '3,000 Turks of military age' had been 'put into school buildings', were according to him the most he could do at that time. He knew that those prisoners were later executed and that the executions were organized by the military security, acting 'on the authority of General Mladic'. However, Pandurevic believed that he had fulfilled his duty by reporting this to his superior command. He postponed his decision on 'whether to do something more' until he had a chance to talk to General Radislav Krstic, Drina Corps commander.
Today, on the eighth day of his evidence in his own defense, Pandurevic described his meeting with General Krstic on 27 July 1995 at the forward command post near Zepa.
Pandurevic reminded him of his reports about prisoners of war and asked him if he had 'any particular knowledge' of what had happened, Krstic said, 'My dear Vinko, I know. What was not supposed to happen, happened. I know who is involved and who did it. But, you should not deal with it. I will take care of the problem'.
When his superior told him that this 'is not his preoccupation', Pandurevic didn't deal with fate of thousands of prisoners who were temporarily detained in schools after the fall of Srebrenica and were then executed on sites within the Zvornik Brigade zone of responsibility.
Pandurevic confirmed that the report with the number of enemy soldiers captured by his brigade after 20 July 1995 in the course of the mop-up operations was authentic. Those prisoners were put up in makeshift accommodation in the barracks in Zvornik, and were then transferred to a prison in Batkovic. Proper records were kept of all that. The defense showed a document indicating that between 140 and 150 prisoners of war were transferred between 23 and 27 July 1995 from Zvornik to Batkovic.
That document however does not mention the 11 wounded BH Army soldiers who were transferred from Srebrenica first to a hospital in Milic and then to the Zvornik Brigade infirmary. As alleged in the indictment, they were executed there 'with the knowledge and authorization of Vinko Pandurevic'. The accused denies this, arguing that in the morning of 24 July 1995 the duty officer told him that 'the wounded were transported to Batkovic'.
On 3 August 1995, Vinko Pandurevic was appointed commander of the 2nd Drina Brigade; the unit was dispatched to Western BH, in the 2nd Krajina Corps' area of responsibility. Pandurevic's chief of staff, Dragan Obrenovic, 'stood in for him' as the commander of the Zvornik Brigade throughout that time. Pandurevic remained on the western front until 16 September 1995 when he went to Budva for a holiday. Summoned by Krstic, Pandurevic returned to Zvornik on 25 September to take command of the brigade after Dragan Obrenovic was sent to the western front – this time to the AOR of the 1st Krajina Corps – heading a newly-formed brigade of the Drina Corps.
Pandurevic's efforts to prove that from early August to late September 1995 he was not in Zvornik, in command of the brigade, serve to contest the prosecution's allegation that he was involved in the secret operation to dig the mass graves around Srebrenica; the machinery and personnel from the Zvornik Brigade were used to dig them, the prosecution alleges.
Vinko Pandurevic's evidence continues tomorrow.