Home
PANDUREVIC'S REPORT IS 'INACCURATE'
Testifying in his own defense Vinko Pandurevic contends that on 16 July 1995 he delivered an 'inaccurate report' to the Drina Corps Command about the situation at the Zvornik Brigade defense lines, painting the picture 'more dramatic and more serious than it actually was'. He did that to justify his decision to allow a part of the column moving towards Tuzla after the fall of Srebrenica to pass through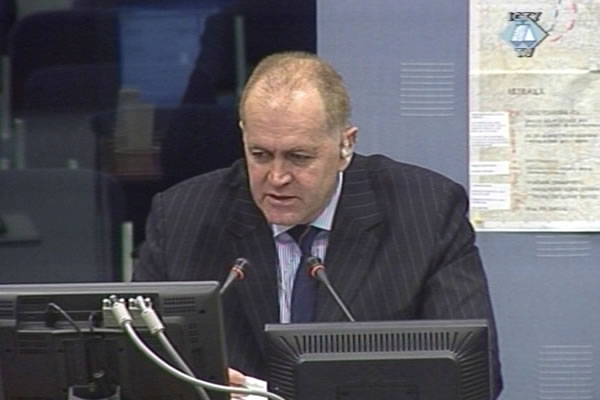 Vinko Pandurević u sudnici Tribunala
'It was necessary to open up a corridor to save lives', Vinko Pandurevic said, explaining why he decided to make a breach in the Zvornik Brigade defense lines on 16 July 1995 and allow a column of civilians and BH Army troops through. The column was heading towards Tuzla after the fall of Srebrenica.
There was no military justification for a corridor to be opened up, Pandurevic maintained, as troops under his command had surrounded the column and controlled its movement. After negotiations with Semso Mamunovic, commander of the 206th Mountain Brigade, Pandurevic agreed in the morning of 16 July 1995 to let civilians and troops from the BH Army 28th division pass through the VRS positions. The first part of the column passed through on 16 July, between 1 and 2 p.m.
Knowing that as a brigade commander he was not allowed to independently make such a decision, he avoided all contacts with his superior officers because he didn't want to risk being prevented from doing what he intended to do, Pandurevic explained. However, during the day the Zvornik Brigade Command kept receiving requests from the Drina Corps and the Main Staff to report as soon as possible.
Pandurevic was irritated by the pressure and not pleased with the changes to the Operation Krivaja 95 plan; he disagreed with Karadzic's order of 9 July 1995 that the operation should continue until the enclaves are taken. In the evening of 16 July 1995 Pandurevic drafted a report to the Corps command painting the situation 'more dramatic and worse than it actually was', in the hopes that they might understand why he had done it. In his report Pandurevic said that a corridor was opened 'because of the civilians in the column' and that 'only unarmed soldiers' were allowed to pass through it. As Pandurevic confirmed now, this was not true.
Pandurevic described how in the evening of 16 July 1995 his deputy Dragan Obrenovic confirmed that the detainees were really held for a time in the schools in the area controlled by the Zvornik Brigade and then killed. 'I was shocked and I could not believe it', Pandurevic said.
Pandurevic claims Obrenovic told that prisoners were brought in 'on the orders of the VRS Main Staff'; Ljubisa Beara, chief of security in the Main Staff, came to pick up the machinery for their burial and the commander of the Sixth Battalion told Obrenovic that the detainees from the Petkovci school had been killed. As Obrenovic told him then, Pandurevic now recounted, 'nobody from the Zvornik Brigade', including security chief Drago Nikolic, now in the dock, 'took part in the executions'.
Vinko Pandurevic continues his evidence next week.