Home
'MILITARY SOLUTION' FOR ENCLAVES PLANNED IN 1993
Through the evidence of a former Drina Corps officer, the defense of General Radivoje Miletic has tried to prove that as early as in 1993 the VRS had plans for 'military solution' in the Srebrenica and Zepa enclaves. In the spring of 1993, the UN placed the areas under its protection and the operation launched to cut the two enclaves off in July 1995 was not a result of the infamous Directive No. 7; the indictment alleges that the Directive was written by Miletic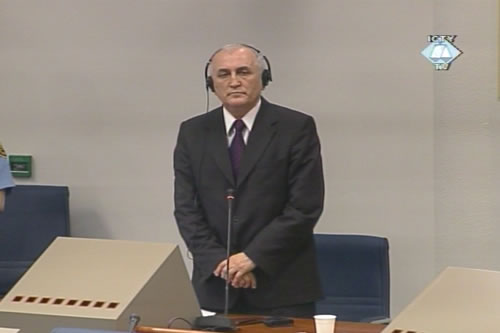 Radivoje Miletic in the courtroom
Milenko Jevdjevic, former commander of the 5th Signals Battalion in the Drina Corps continued his evidence at the trial of the Bosnian Serb military and police officers charged with crimes in Srebrenica and Zepa. Jevdjevic confirmed that as early as in 1993 the VRS planned a 'military solution' for the enclaves. In the spring of 1993 those areas were placed under UN protection.
The defense of Radivoje Miletic, former operations officer in the VRS Main Staff, tried to prove through this witness's evidence that the operation to cut off the two enclaves in July 1995 was not a result of the infamous Directive No. 7. The prosecution alleges the Directive was drafted by Miletic in March 1995. The defense in turn claims that it was yet another attempt of the VRS to protect its positions around Srebrenica and Zepa from constant attacks by the BH Army from within enclaves.
In 1993 and 1995 Jevdjevic took part in those operations together with Vinko Pandurevic and is in The Hague to testify in his defense too. In the examination, Pandurevic's defense counsel focused on Operation Ustipraca 93. Thanks to Major Pandurevic, a column of Muslims from that area was allowed to leave for Gorazde.
Units under Pandurevic' command, Jevdjevic recounted, defeated the BH Army forces at Ustipraca. A huge column of civilians from that area was blockaded together with the troops. The witness confirmed that Pandurevic took the initiative and made a deal with Ahmet Sejdic, commander of the defeated troops, to cease fire and allow the civilians pass towards Gorazde.
Vinko Pandurevic's defense drew a parallel between the 1993 event and the permission for the column to pass towards Tuzla after the fall of Srebrenica through the woods in July 1995. On 16 July 1995, Pandurevic, the VRS Zvornik Brigade commander, took the initiative once again to open the corridor and to allow a part of that column pass. Almost 15,000 men were in that column: BH Army 28th Division troops and civilians. Pandurevic again didn't ask his superior officers for permission to do that. The corridor was opened for 24 hours: thousands of men passed into the territory controlled by the BH Army. They avoided the fate that befell the Bosniak men who ended up in captivity.
Milenko Jevdjevic's evidence continues on Monday when he will be cross-examined by the prosecution.