Home
CAMERAS AS WEAPONS
General Dragisa Masal, testifying as Radivoje Miletic's defense witness, denies that the VRS prevented humanitarian aid convoys from passing towards Srebrenica and Zepa. As he put it, the VRS only 'limited the quantity' of items such as cameras that 'could be used to take pictures of various details in the combat operations zone'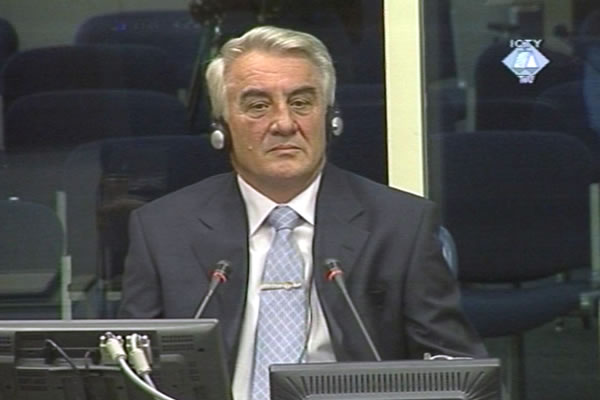 Dragisa Masal, defense witness for Radivoje Miletic
The prosecution alleges that General Radivoje Miletic drafted the famous 'Directive No. 7' in March 1995 ordering 'the creation of unbearable living conditions for the Muslim population'. Preventing the passage of convoys carrying humanitarian aid to the safe areas of Srebrenica and Zepa was yet another means to achieve this, the prosecution maintains.
General Miletic's defense noted that the VRS didn't prevent the passage of convoys despite the fact that 'it had reasons to do so' as they were used to bring arms and ammunition, not humanitarian aid, into the enclaves. This defense allegation was confirmed today by Dragisa Masal, former chief of artillery in the VRS Main Staff and commander of Visegrad Tactical Group. Masal said that convoys 'carried equipment for soldiers' including video and still cameras. This equipment, Masal alleged, was significant as it could be used to record details inside the combat operations zone and no 'command would allow this'.
According to Masal, fuel was smuggled in too. The quantity of fuel, the witness noted, was always recorded, because convoys carried more than was needed and the 'surplus' was sold to the BH Army. Also, Masal alleged, there were cases when ammunition was found among food.
Masal said that the VRS in 'all its orders regularly emphasized the need to minimize or avoid civilian casualties'. According to one such order showed by Miletic's defense counsel Natasa Faveau, the VRS 'in all the territories it has liberated gave the Muslims living there a choice to either move out to the territory controlled by the BH Army or to stay and recognize the Serb authority'.
The witness gave as examples four Muslim villages in the Rogatica Brigade area of responsibility. The villagers, the witness said, 'never had any problems' with the Serb army. There were isolated provocations or smaller groups who would verbally pressure the population to make the move out of the village, Masal recounted, but the brigade commander appealed to the civilian authorities to tighten the police control.
Before Masal took the stand, the cross-examination of retired VRS colonel Ratko Miljanovic was completed. Miljanovic was chief of logistics in the VRS Main Staff. Since Miljanovic answered to most of the prosecutor's questions with 'I don't know anything' or 'I cannot comment on it', at the end of his cross-examination the prosecutor said that he didn't believe the witness. The questions referred to documents sent in the course of 1995 to or from the logistics sector of the VRS Main Staff.