Home
WHO IS TO BLAME FOR SUVA REKA MASSACRE
General Vlastimir Djordjevic's defense counsel has asked a series of questions about KLA assassination attempts – in which local police officers and the head of the local State Security Department office were killed or injured – in an effort to build the case blaming the Suva Reka crimes on 'private revenge' carried out by local police officers, their 'guests' from Nis or the state security people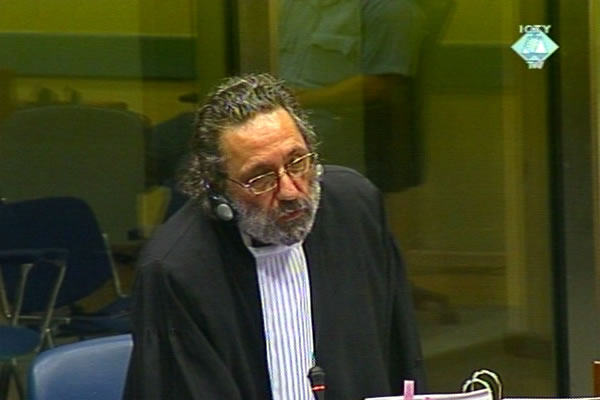 Veljko Đurđić, branilac Vlastimira Đorđevića
The defense of general Vlastimir Djordjevic, former chief of the Public Security Department in the Serbian MUP cross-examined today the reserve policeman from Suva Reka who gave evidence about the massacre in which more than 40 members of the Berisha family were killed, on 26 March 1999. The defense strove to distance the Suva Reka Interior Department from the Nis PJP (Special Police Unit) sent to the area to provide 'support'. The defense also tried to draw a clear line between the Interior Department and the local State Security Department office, which shared the building with the civilian police
General Djordjevic's defense didn't try to contest the fact that the massacre really happened or to speculate about the possible perpetrators, identified by the witness in his examination-in chief as local policemen from Suva Reka and members of the PJP from Nis. The Nis unit was under the command of Radoslav Mitrovic, whose nom de guerre was Cegar 1.
Through a series of questions about KLA assassination attempts – in which local police officers and the head of the local State Security Department office were killed or injured – the defense is apparently building the case to blame the Suva Reka crimes on 'private revenge' carried out by local police officers, their 'guests' from the Nis PJP (who were not under the Public Security Department) or the State Security Department personnel. The latter would be nothing new: the defense of police general Sreten Lukic – at the Milutinovic et al. trial – identified Nisavic as main culprit of the 'revenge massacre'. Nisavic's motive was not only the fact that he had been seriously wounded in a KLA assassination attempt, but the Berisha family's spoiling his business plans in late 1998: the Kosovo Verification Mission representatives moved out of Nisavic's hotel to a house owned by Nedzad and Faton Berisha.
The defense also tried to prove that the police had investigated the crimes involving MUP personnel by showing a few criminal reports filed for robberies with Albanians as victims. The defense also noted that on 30 March 1999 an investigation team was sent from Prizren to conduct crime scene investigations in various locations including the Muslim cemetery where some of the victims were buried. The witness confirmed that he was providing security for the investigation team.
In his re-examination, the prosecutor asked the witness if the investigators from Prizren interviewed him at the time about the events in front of the house owned by Nedzad and Faton Berisha and in the pizzeria in the shopping center. The witness appeared almost surprised by the question, and said they 'had no reason to do it'.
The witness was there when two of his colleagues threw a hand grenade into a pizzeria and then fired on about fifty women, children and elderly people who were kept there. He was invited by his colleagues to fire on the people, he said, but he declined the offer.
After the former police officer completed his evidence, the prosecution called as its witness Shyhrete Berisha. She is one of the three survivors from the Suva Reka pizzeria. She will continue her evidence on Wednesday.