Home
VIDEO EVIDENCE FROM IZBICA
Dr. Liri Loshi describes how he recorded the bodies of more than 100 Albanian civilians, most of them elderly, in the spring of 1999. The indictment against General Vlastimir Djordjevic alleges the victims were executed by the Serbian army and police near the village of Izbica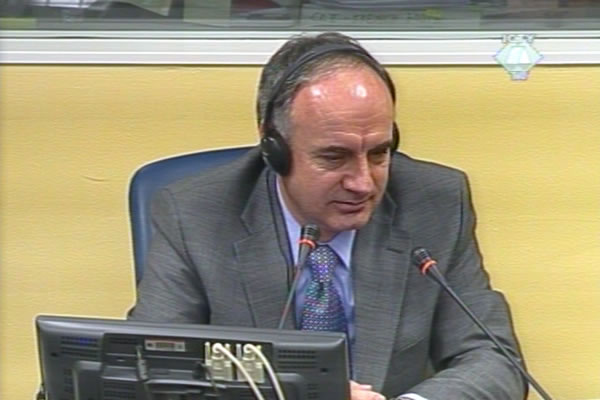 Liri Loshi, svjedok na suđenju Vlastimiru Đorđeviću
Mustafa Dragaj, a survivor of the execution of more than 100 elderly Kosovo Albanians in the village of Izbica on 28 March 1999, gave evidence last week. Now the trial of Vlastimir Djordjevic, former Public Security Department chief in the Serbian MUP continued with the testimony of Dr. Liri Loshi. A few days after the crime, Dr. Loshi and his acquaintance Sefedin Thaqi recorded the dead bodies at the scene of the massacre and their burial. In May 1999 Dr. Loshi went to Albania and gave the recordings to the Tribunal's investigators. Apart from the evidence of the survivors, Dr. Loshi's material is among the most striking evidence of what happened in the village of Izbica.
The footage taken by Thaqi and Loshi on 31 March 1999 shows two groups of dozens of bodies: Kosovo Albanians in civilian clothes. Most of them were elderly. Dr. Loshi estimates heir average age at about 70. The camera recorded walking sticks and crutches lying close to many of the dead bodies. One of the few young victims was a 30-year old man. The witness knew this man was deaf and dumb. Three of the witness' relatives – Selman Loshi, his son Jashar and grandson Sami – were killed too. There is also footage of another location in Izbica where two women were killed. One was shot and the other was burned in a tractor, Dr. Loshi said.
When relatives identified the bodies, a list of victims was drawn up. They were then buried in a nearby clearing, and graves were marked by wooden tablets bearing the victims' name and year of birth. Dr. Loshi noted that the KLA members helped with the burial. Two KLA soldiers who had been killed elsewhere were buried with the civilians. There was a total of 127 individual graves, Dr. Loshi concluded.
Dr. Loshi has already testified at the trials of Slobodan Milosevic and Milan Milutinovic; today he provided additional video evidence for the prosecution: the footage he took on 23 June 1999 at a place where civilians had been buried three months earlier. Apart from scattered wooden markings and some remnants of clothing, there were no bodies in the graves. At previous trials for crimes against Kosovo Albanians in 1999, the prosecution tried to prove that those bodies had been exhumed by the Serbian army and the police to be transferred to other locations in Kosovo and Serbia.
The cross-examination of Dr. Loshi began as the hearing drew to a close and will be completed tomorrow.