Home
VETON SURROI: 'THINGS WERE WORST WHEN THERE WERE NO NATO AIR STRIKES'
Contrary to what the accused general Vlastimir Djordjevic said in his address to the Trial Chamber yesterday – that NATO air campaign was one of the reasons why Albanians fled Kosovo – the first prosecution witness, Kosovo politician and publisher Veton Surroi said that things were worst for the Pristina residents when there were no NATO air strikes; the Serbian police were then able to move more freely and committed crimes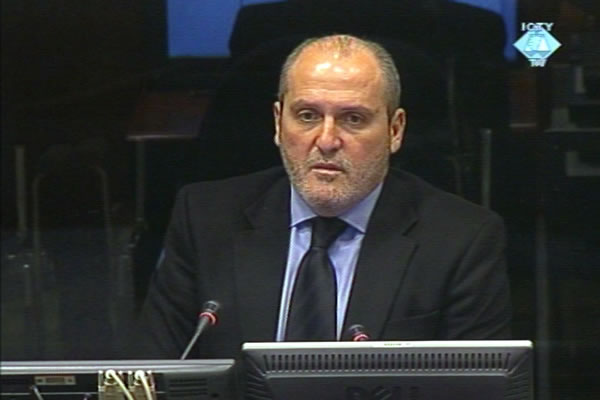 Veton Suroi, svjedok na suđenju Vlastimiru Đorđeviću
The prosecution called Kosovo politician and publisher Veton Surroi as its first witness at the trial of Vlastimir Djordjevic, former chief of the Serbian Public Security Department . The prosecution clearly intended to acquaint the judges with the genesis of the Kosovo crisis through this witness. The crisis culminated in the spring of 1999 when the crimes General Djordjevic is charged with were committed against Kosovo Albanians who were deported, persecuted and murdered. This is the third time Surroi testifies before the Tribunal. Previously he has given evidence at the trial of Slobodan Milosevic and in the Milutinovic et al. case.
The crisis started in 1989 when the Milosevic regime abolished Kosovo's autonomy and began imposing Serbian rule on the Albanian majority in the province, Surroi described. Violence against the local population followed. The Albanian side responded to pressure from Belgrade with non-violent resistance until 1997, when the KLA started attacking Serbian security forces. As Surroi explained, the Serbian police then responded by attacking both the KLA and the civilians. As a consequence, some 100,000 persons were forced to flee their homes.
Throughout the period, the Albanian and Serbian side had talks from time to time, with little success. The last round of talks failed in February and March 1999 when the Albanian delegation signed the Rambouillet agreement on the future of Kosovo while the Serbian side refused to sign it. This led to the launch of the NATO air campaign against the FRY. When the air strikes began on 24 March 1999, Veton Surroi was in Pristina. The Serbian military and police immediately retaliated on the Albanian civilians in Pristina, he said. In the morning of 25 March 1999, a friend told Surroi that the famous Kosovo lawyer Bajram Kelmendi and his two sons had been taken away from their home. Some days later their bodies were found near Pristina, with gunshot wounds.
In the first week of the air strikes, the witness described columns of people moving from Pristina to the railway station in Kosovo Polje under police escort. There they were made to board the trains and were taken to the Macedonian border. As Surroi noted, they had only plastic bags with them and a bit of food. This led him to conclude that they had been given a very short time to move out of their homes. Contrary to what accused Djordjevic argued – that the Albanians fled Kosovo in fear of NATO air strikes, Surroi said that things were the worst for the Pristina residents when there were no NATO air strikes. This was when the Serbian police were able to move around more freely, committing crimes. During the air strikes, the police didn't patrol the town and people felt safer.
Veton Surroi's cross-examination began as the hearing today drew to a close and will continue on Friday.