Home
HOW BATTLES AND WARS ARE WON
While former Bosnian Croat military and civilian leaders quarrel about their respective responsibilities in Herceg Bosna, the prosecution blames all of them. The prosecutor brought military expert Davor Marijan back to what he had admitted earlier in his evidence, that Bruno Stojic was 'the key person for logistics', and then went on to quote former US president Eisenhower who said that 'battles and war are won by logistics'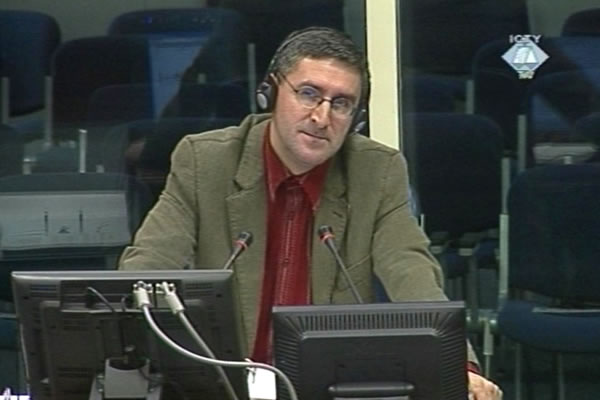 Davor Marijan, svjedok odbrane Brune Stojića
The conflicts between defense teams of the six former Bosnian Croat leaders about the respective competences of military and civilian bodies in Herceg Bosna continued during the cross-examination of Davor Marijan. The witness drafted an expert report on the organization of HZ HB defense for Bruno Stojic, former head of the defense department in the Croatian Community of Herceg Bosna, later to become the Croatian Republic of Herceg Bosna.
In his report, the Croatian historian claims that Stojic was not part of the military chain of command even though he was in charge of logistics, finance and a number of other administrative tasks. The defense teams of two former chiefs of the HVO Main Staff, Praljak and Petkovic, contest this claim arguing that the defense department was part of the military chain of command, showing evidence that the defense department communicated extensively with military commanders and that both the military police and the HVO security service (SIS) were directly subordinate to it.
The defense of the former military police chief Valentin Coric, however, did not agree with the argument put forward by the defense teams of the two generals. In her cross-examination, Coric's defense counsel Dijana Tomasegovic Tomic noted that the military police units deployed in combat operations had actually been subordinated to military commanders.
At the beginning of his cross-examination, the prosecutor dealt with the responsibility of both the civilian and military authorities of Herceg Bosna. After the witness said that the influence of civilian authorities on military components was the strongest on the local level, noting that the municipality leaders were members of the HZ HB Presidency, the prosecutor reminded him that the Presidency didn't hold any meetings from November to August 1993 – when the Croatian Republic of Herceg Bosna was established. During that period, the prosecutor noted, the executive government, led by Jadranko Prlic and Bruno Stojic, made a series of important political and military decisions.
Going back to the witness's admission that Stojic was 'the key person for the HVO logistics', prosecutor Roeland Bos quoted former US president Dwight Eisenhower who said that 'battles and wars are won by logistics'.
Davor Marijan's cross-examination continues next Monday. The defense will then call Stojic's former deputy Slobodan Bozic as his next witness.