Home
BH – 'NOT READY FOR INDEPENDENCE'
According to Milan Cvikl, secretary general of the Slovenian government, 'Bosnia and Herzegovina was completely unprepared for independence when it declared it, unlike Slovenia'. Cvikl drafted an expert analysis of the economic development of Herceg Bosna for the defense of Jadranko Prlic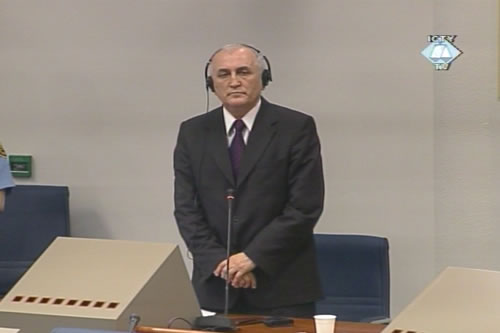 Radivoje Miletic in the courtroom
The trial of former Bosnian Croat leaders continued after the winter recess with the evidence of Slovenian expert Milan Cvikl. The current secretary general of the Slovenian government was asked by Jadranko Prlic's defense to draft his report, entitled
Analysis of the Economic Measures & Developments in the HZ/HR HB Within the Context of the Economic Environment in BiH 1991-1994
.
Before he was appointed secretary general of the government in November 2008, the witness served as the Slovenian minister for EU and was a commercial banker for years. During the conflict in the former Yugoslavia, Cvikl worked for the World Bank as an economic expert. After the signing of the Dayton peace agreement, he organized the first BH donor conference.
As the Slovenian expert put it, Bosnia and Herzegovina, unlike Slovenia and Croatia, was completely unprepared for independence when it was declared in March 1992. BH didn't issue new currency to replace the Yugoslav dinar in time and was soon stricken by terrible inflation. The central government in Sarajevo was soon under siege and individual municipalities started operating on their own to normalize life for the population and to ensure financial support for the defense effort. This opinion is in line with the defense argument that Croats in BH were forced to organize themselves within HZ HB.
According to the witness, the introduction of the Croatian currency in Herceg Bosna in the circumstances didn't represent a violation of BH's economic sovereignty. The documents the expert witness received from Prlic's defense team lead him to conclude that the Herceg Bosna authorities didn't abolish the Bosnian dinar to replace it with the Croatian dinar. It was in fact lack of trust in the Bosnian currency that led them to allow the use of Croatian dinar and of the Deutschmark. This decision 'supported the economic growth of the country in the context of high inflation', the witness explained.
Milan Cvikl is the last witness called by the defense of Jadranko Prlic, former Herceg Bosna prime minister. The defense of the second accused Bruno Stojic will now open its case, expected to be completed by March 2009. The defense cases of the remaining four accused – Praljak, Petkovic, Coric and Pusic – might well last until May 2010 according to the calculation made by presiding judge Antonetti.