Home
NOW YOU SEE IT…NOW YOU DON'T
According to Svetlana Radovanovic, demography expert called by Jadranko Prlic's defense, changes in the ethnic structure in eight municipalities in Herceg Bosna are and are not there, depending on how one looks at them. The trial of six former Bosnian Croat former leaders continues on 12 January 2009 after the Tribunal's winter recess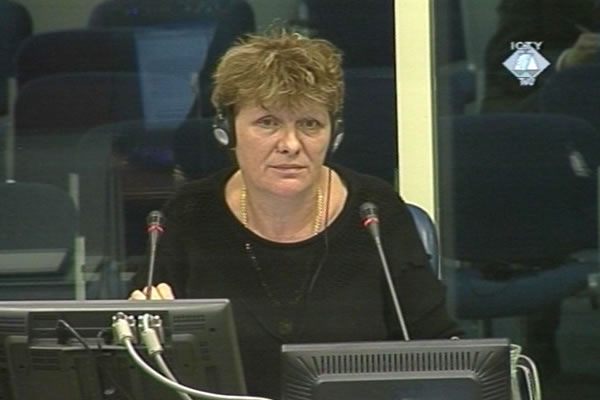 Svetlana Radovanovic, defense witness for Jadranko Prlic
In the cross-examination of Svetlana Radovanovic, demography expert called by the defense of former Herceg Bosna prime minister Jadranko Prlic, the prosecution claimed that the data sources used by the prosecution expert Ewa Tabeau when she drafted her report on the demographic consequences of the war in Herceg Bosna were credible and sufficiently reliable.
Comparing the electoral rolls from 1997 and 1998 with the data from the 1991 census, Tabeau established that more than 100,000 persons were displaced in the period from 1991 to 1997 in the eight Herceg Bosna municipalities covered by her research. Most of the displaced persons from Mostar, Capljina, Gornji Vakuf, Prozor, Jablanica, Ljubuski, Vares and Stolac were Muslims. In 1997, every second Muslim no longer lived in their pre-war place of residence.
In her cross-examination Radovanovic maintained that the electoral rolls from 1997 and 1998 were not a reliable source of information as she was 'not aware of anyone ever using them' to research demographic changes. Radovanovic rejected the prosecutor's allegation that the Organization for Security and Cooperation in Europe was a sort of a filter for the data entered in the course of the registration of voters in BH.
Despite the fact that in her critical analysis of Ewa Tabeau's report Radovanovic claimed that there were no radical changes visible in the ethnic structure of the eight Herceg Bosna municipalities, she did agree with the prosecutor at one point that they were visible if the municipalities are looked at individually. 'On a general level, however, the changes are not visible', the witness stated.
Svetlana Radovanovic already gave evidence on the 'lack of credibility' of Ewa Tabeau's report in the defense of Blagoje Simic, Stanislav Galic, Vidoje Blagojevic and Ljubisa Beara. Blagoje Simic was charged with the ethnic cleansing of Bosanski Samac, Stanislav Galic was sentenced to life for artillery and sniper campaign against Sarajevo, and Blagojevic and Beara are two VRS officers indicted for genocide in Srebrenica.
The trial of the six former Bosnian Croat leaders will continue on 12 January 2009 after the Tribunal's winter recess with evidence of yet another expert called by Prlic's defense. The Bruno Stojic defense will then start its case. At the time relevant for the indictment Stojic was head of the defense department and later defense minister in Herceg Bosna.