Home
BATTLE FOR 'THE GATEWAY TO SARAJEVO'
According to the defense of Milivoje Petkovic, former chief of the HVO Main Staff, the question who attacked whom in Jablanica and Konjic is the key issue in the case against the accused Herceg Bosna leaders. Petkovic's defense claims that the BH Army attacks against Croat villages there started a wave of violence in Herzegovina and Central Bosnia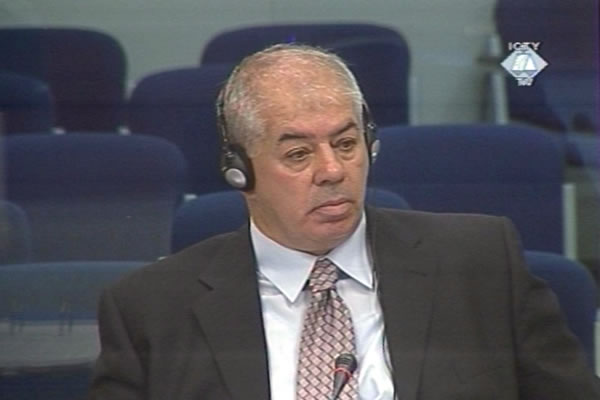 Mirko Zelenika, defense witness for Jadranko Prlic
The events that preceded the conflict between the HVO and the BH Army in the Jablanica and Konjic area are of key importance in the case against six Bosnian Croat leaders, the defense of the former chief of the HVO Main Staff Milivoj Petkovic contends. Mirko Zelenika, former president of the Jablanica municipal board, spoke about those events in his evidence.
'Konjic and Jablanica were the gateway to Sarajevo', Petkovic's counsel Vesna Alaburic said, noting the strategic importance of that area for the BH Army. Alaburic noted that there was a factory in Konjic which manufactured weapons necessary for the lifting of the siege of Sarajevo. The main road from Mostar to Sarajevo passed through Konjic. On the other hand, by expelling Croats from a pocket around the village of Obri and in Boksevica, the BH Army tried to secure the territory for some 18,000 Muslims from Konjic, the defense counsel contended. The attacks launched by the BH Army against Croat villages in that area started a wave of violence in Herzegovina and Central Bosnia in 1993, Alaburic went on to say.
The witness confirmed the defense allegations, adding that in the BH Army prison in Jablanica he met many Croats from those villages; they had been captured in an offensive launched in April 1993. They told the witness that the remaining Croats from that area had fled towards Prozor via Boksevica.
In the cross-examination, the prosecutor brought up the decision of the Constitutional Court of BH of 18 September 1992 contesting the legitimacy of HZ HB, and a document showing that in late 1992 the BH Army was trying to make the HVO a part of a joint defense system. The witness had never heard of the decision of the Constitutional Court, he contended. In his words, the HVO actually proposed a joint defense system. When the prosecutor asked the witness if there was anything illegal in the fact that the BH Army was protecting the territory of a sovereign, internationally recognized state, Petkovic's defense counsel intervened. In her opinion, it has been proved that the BH Army was 'a Muslim army', and as such it defended only one of the three constituent ethnic groups in BH.
Mirko Zelenika's cross-examination continues tomorrow.