Home
MEMORIES LIMITED BY MANDATE
Marinko Simunovic, former president of the Mostar Red Cross, could not remember a single case of abuse of Muslim population in the western part of the town during the conflict between the HVO and the BH Army. As Simunovic put it, his memory is limited by his mandate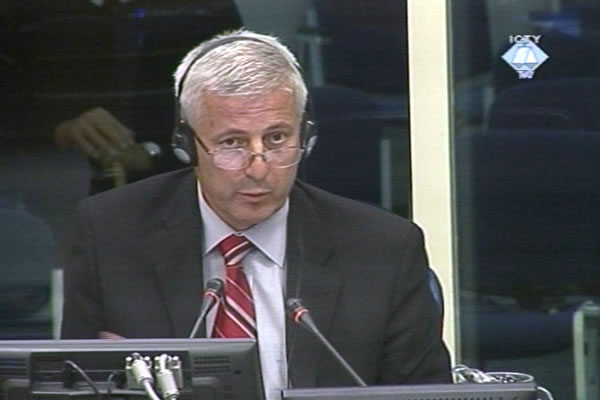 Marinko Simunovic, defense witness for Jadranko Prlic
Former president of the Red Cross in Mostar Marinko Simunovic testified at the trial of the former Bosnian Croat leaders. He could not remember even a single case of abuse of Muslims in Western Mostar in the course of the HVO-BH Army conflict. In his words, the Mostar Red Cross did its job 'as well as it could' and 'regardless of who's who'.
In his cross-examination, the prosecutor tried to refresh the witness's memory, giving him examples of Muslim humanitarian workers who were arrested, threats and attacks of the HVO against the UNHCR personnel, taking of prisoners to the frontlines and the expulsion of Muslims from Western to Eastern Mostar. 'I do not remember that', the witness replied repeatedly to the prosecutor's questions on this topic.
When the prosecutor reminded the witness that he had been in Western Mostar during the war and that he had worked for the Red Cross from 1992 to 1998, the witness made it clear that he was only doing his job: collecting and distributing humanitarian aid. His memory was limited by his mandate, the witness noted. What the witness did remember was that no Muslim from Western Mostar ever complained about problems with the HVO authorities. From time to time, the witness replied to the prosecutor by saying 'show me the document and I will tell you'.
The prosecutor showed ICRC documents that list some of the cruelest examples of torture of prisoners such as taking prisoners to the front lines as living shield, beatings, forcing prisoners to bark and other forms of humiliation. The witness replied he never heard of that from ICRC members or anybody else.
After Simunovic completed his evidence, some of the accused expressed their fear that they would not have enough time to call their evidence in the light of the fact that the term of office of the judges in the Trial Chamber expires on 31 December 2009. After assuring the accused that everybody would have enough time to complete their case and would not be rushed, the judges said they hoped that 'reason would prevail', agreeing with the accused that the 'situation is not easy'.