Home
ALIJA – MASTER OF ELECTRICITY
According to former president of the Jablanica municipal board Mirko Zelenika, the BH Army was the main culprit for the outbreak of the Croat-Muslim conflict in that area, not the HVO as alleged in the indictment. Zelenika accused Alija Izetbegovic, former president of the BH presidency, of cutting off Croats' power supply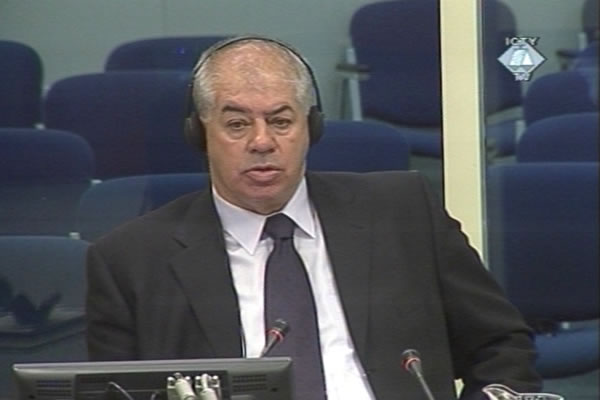 Mirko Zelenika, defense witness for Jadranko Prlic
Contrary to the allegations of the prosecution witnesses that the HVO is to blame for the outbreak of hostilities between Croats and Muslims in the Jablanica area, Mirko Zelenika, former president of the Jablanica municipal board claims that it was the BH Army that started terrorizing the Croatian population first. In his evidence in the defense of former Herceg Bosna prime minister Jadranko Prlic, the witness noted that he himself was the victim of that terror campaign. First he was removed from office in the municipality; later he was mobilized into a work platoon and ended up detained in the basement of the municipality museum.
Prosecution witness Safet Idrizovic, former commander of the Territorial Defense and chief of security in the Jablanica hydroelectric power plant said in his evidence that in November 1992 the HVO demanded that Jablanica join Herceg Bosna. As he alleged, in January 1993 the Jablanica Territorial Defense was ordered to place itself under HVO command. The armed conflict broke out on 13 and 14 April 1993 when the HVO launched attacks against the Jablanica villages of Sovici and Doljani. The Muslim property was looted then, houses were burned down and surviving villagers taken to the Ljubuski. After that, Jablanica was shelled.
Zelenika contends that Muslims were in the majority in the Jablanica municipal authorities until late October 1992. Croats and Serbs mentioned in the documents from that period were 'yet another charade of Alija Izetbegovic' intended to dupe the international community, the witness stated. The reality was completely different: Croats' property was looted; Croats were expelled from their houses and detained in the basement of the Jablanica museum. Zelenika also claimed that the villages of Sovici and Doljani were attacked by the BH Army and not the HVO.
The witness laid the blame for most of the problems between Croats and Muslims in Jablanica on Safet Cibo, wartime president of Konjic, Prozor and Jablanica, who had both civilian and some military powers. Cibo's appointment as the president of the Jablanica municipality in March 1993 was unconstitutional because it was not in line with the results of the first democratic elections in 1991, the witness said. According to him, this looked more like an example of the effort to impose Muslim power as envisaged by Alija Izetbegovic.
The witness recounted Izetbegovic's visit to Jablanica in the autumn of 1993. On that occasion, Izetbegovic asked Muharem Tanovic, the director of the hydroelectric power plant, if it was possible to cut off Herceg Bosna's power supply if necessary. When Tanovic confirmed it, Izetbegovic said it was good. Izetbegovic kept Croats without electricity for 22 months although the fighting lasted less than that. When they realized Izetbegovic would not give them electricity, Croats set up a new power supply line from Rama.
Mirko Zelenika will be cross-examined by the prosecutor tomorrow.