Home
NO MORE HEROES
Miroslav Palameta, university professor from Mostar and former deputy minister of education in Herceg Bosna, is testifying at the trial of former Bosnian Croat leaders. Today he explained why 'Serbo-Croatian' became just 'Croatian' and why Croats renounced their heroes like Franjo Kluz and the Ribar brothers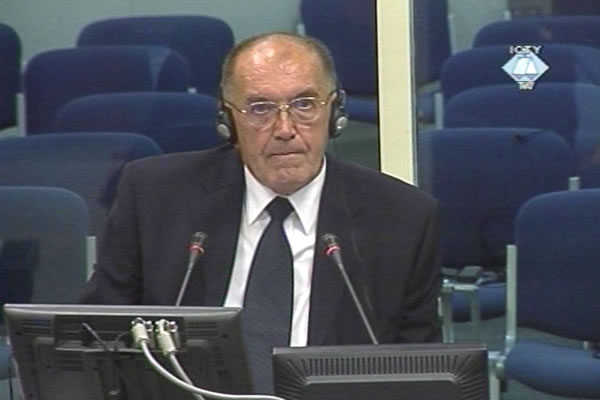 Miroslav Palameta, defense witness for Jadranko Prlic
Miroslav Palameta, university professor from Mostar and former education minister in the Herceg Bosna government, contends that the introduction of the Croatian language in primary and secondary education in the territory controlled by Bosnian Croats in 1992 had nothing to do with the desire to 'Croatize' the area. In his evidence in the defense of Jadranko Prlic, former Herceg Bosna prime minister, Palameta said that the name of the official language was changed mainly because of the term 'Serbo-Croatian' was repugnant to population because Serbs were seen as aggressors.
In his examination-in chief, Palameta said that in 1991 he was a member of the BH Committee tasked with solving the issue of the name of the official language. According to the 1974 Constitution, the official language was 'Serbo-Croatian'. As the witness explained, Croats suggested that the official BH language be called 'Croatian'. Serbs wanted it to be called 'Serbian' while Muslims refrained from offering their official opinion on the issue.
Muslim representatives first expressed their disapproval of the existing curricula in Herceg Bosna at a meeting held in early April 1993, the witness said. He went on to explain that the Muslim delegation complained to him – at the time he was the deputy head of the Education Office in Herceg Bosna – that Muslim writers were not taught as part of the curriculum. They agreed to come up with their list and forward it to the Office. They never did, the witness said, and he was left with the impression that they never really wanted to solve that problem.
The witness explained that the Dzemal Bijedic University in Mostar was renamed because Bijedic 'was not much of an intellectual'; he had not written a single book. To the judges' remark that institutions are not named only after writers, the witness noted that the renaming of schools and other institutions in Herceg Bosna was primarily 'ideologically motivated'. Although the Simic brothers were 'great Croatian writers' they were also communists, the Ribar brothers were 'Tito's associates' and Franjo Kluz was a partisan, the witness explained.
Miroslav Palameta will continue his evidence on Wednesday when he will be examined by the accused Slobodan Praljak and the defense counsel of the other accused. The Tribunal is closed tomorrow because of a UN holiday.