Home
'COMMIE' AND EXPERT
Ilija Kozulj, former Herceg Bosna transport minister, claims that the founding of public companies in Herceg Bosna was not motivated by the desire to strip BH of some functions and to build 'a state within a state' in the BH territory. Jadranko Prlic's defense presented Kozulj as an excellent engineer with a reputation of a 'pre-war commie'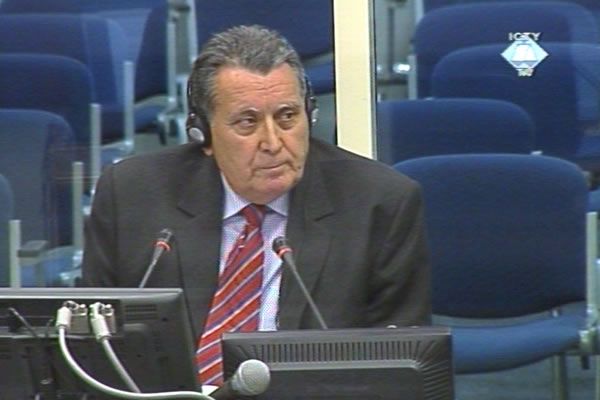 Ilija Kozulj, defense witness for Jadranko Prlic
It was necessary to set up public companies in the territory of HZ HB; it was a temporary measure to keep them operational given that war was imminent, Ilija Kozulj contends. Kozulj, who served as the transport minister in Herceg Bosna during the war, is testifying in the defense of Jadranko Prlic. Jadranko Prlic signed most of the decisions establishing public companies, first as the president of the HVO and later as the prime minister of Herceg Bosna. The witness today claimed that public companies were not created to strip BH of some functions and to strengthen Herceg Bosna as 'a state within a state'.
Introduced by Prlic's defense as a pre-war 'commie' and excellent engineer, Kozulj worked in the UNIS enterprise before the war. In the spring of 1992 he joined the local HVO authorities in Mostar because he wanted to help restore telecommunications and postal services. When the main telecommunication center in Mostar was shelled and destroyed by the JNA in May 1992, cutting the town off from Sarajevo, the local authorities decided to set up telephone communication lines through Split in neighboring Croatia; this was the only option. The whole Herzegovina and a part of Central Bosnia were linked up internally, but as the witness explained, all efforts to restore the connection with Sarajevo failed, as did the attempt to provide electricity to Sarajevo.
The witness also said that he was surprised when Prlic put forward his name in mid-1993 as minister of transport and communications in the government of the newly formed HR HB. The main reason why he accepted the appointment was the conclusion from the first government session indicating that establishing 'law and order' was a priority for the government, the witness clarified.
After his examination-in chief the witness will be examined tomorrow by his colleague, accused Slobodan Praljak; he has a degree in electrical engineering among his degrees.