Home
URBICIDE OR 'CONSEQUENCE OF THE CONFLICT'
When the JNA shelled Mostar, it was 'urbicide'. However, when the HVO did the same, it was a 'consequence of the conflict', Borislav Puljic says. Puljic, who claims he is 'not an extremist' testifies in the defense of Jadranko Prlic, former Herceg Bosna prime minister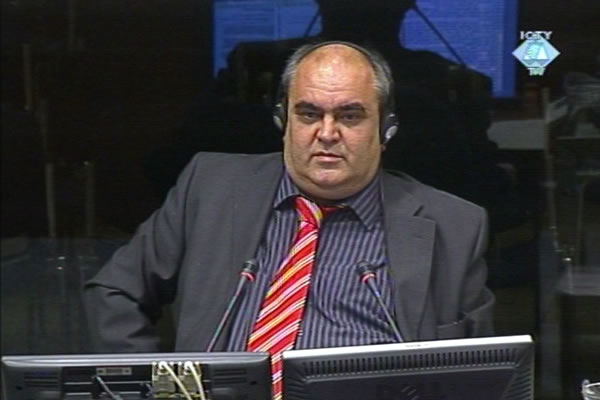 Borislav Puljic, defense witness for Jadranko Prlic
The destruction of Mostar inflicted by the JNA attacks counted as 'urbicide' in 1992. However, in 1993 and 1994, during the Croat-Muslim clashes, it was a 'consequence of the conflict', Borislav Puljic said in his evidence in the defense of the former Herceg Bosna prime minister Jadranko Prlic.
When the war in BH broke out the witness was a member of the Crisis Staff of the Mostar municipality. After the HVO took over power in the town, Puljic was appointed manager of the public company in charge of reconstruction. Puljic was also one of the authors of the monograph
Mostar '92
. The book described the damage inflicted on Mostar by the JNA shelling in the summer of 1992. According to the witness who rejected the accusations made against the HVO, almost all of the destruction in Mostar was caused by the JNA.
In his examination-in-chief by the defense counsel, the witness was sure that in 1992 the JNA fired 'thousands of shells' on Mostar, but in the cross-examination, he couldn't remember how many shells were fired on Eastern Mostar during the Croat-Muslim conflict in 1993 and 1994. He didn't count them, he said. 'When shells are falling, every normal person covers his ears and bows his head", the witness explained.
Prosecutor Kimberly West showed the witness several photos of Mostar mosques taken immediately after the withdrawal of the JNA and after the end of the Croat-Muslim conflict. The photos showed clearly that the mosque in Balinovac in Mostar was almost intact after a JNA attack. During the Croat-Muslim conflict the mosque was razed to the ground.
The prosecution also confronted the witness with quotes from an interview he gave to a Dutch journalist in November 1995 when he was the deputy mayor of Mostar. When asked why the Croatian side was obstructing the talks on achieving coexistence in Mostar, the witness said that 'the Croats of Western Mostar want to live in a purely Croat state, speaking Croatian, with a Croatian culture'. The witness replied that he had given many interviews but he couldn't remember ever having said that. Claiming he was 'not an extremist', the witness asked that his examination continue in closed session, since various accusations were levied at him in court and he lived in a small town. The judges rejected his request.
The trial of former Bosnian Croat leaders continues next week.