Home
PROSECUTION: TWO YEARS FOR HARAQIJA, A YEAR IN PRISON FOR MORINA
The prosecutor called for a two-year sentence for the former Kosovo minister, Astrit Haraqija and one year in prison for his assistant Bajrush Morina for alleged attempt to influence a protected witness in the Haradinaj case to either change his testimony or to decide not to testify.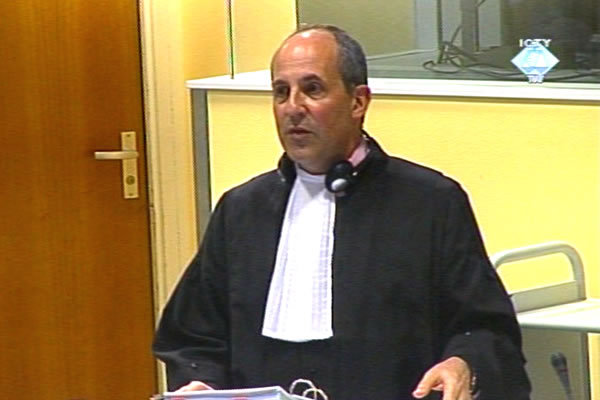 Daniel Saxon, prosecutor in the Tribunal
In his closing argument delivered at the trial on contempt of court charges prosecutor Dan Saxon called for a two-year sentence for former Kosovo minister Astrit Haraqija and a year in prison for his assistant Bajrush Morina. They are indicted for attempting to pressure a protected prosecution witness to either change his testimony or decide not to testify at the trial of Haradinaj, Balaj and Brahimaj, former KLA commanders.
According to the prosecutor, on 2 July 2007 in Pec Haraqija told Morina to go to the country where a protected witness then resided and attempt to convince him not to testify. Fulfilling the orders of his superior Morina contacted the protected witness. He conveyed him the minister's message saying that the witness 'is one of three men able to save Haradinaj'. It was Haraqija's idea, the prosecutor pointed, that Morina referred to Ibrahim Rugova. Since the witness 'had a lot of respect for the late president', a reference to Rugova would help Morina to set up a meeting with him.
As alleged by the prosecution, Haraqija also planned to travel to the country of the witness's residence but in the last moment decided not to go. As the prosecutor pointed, Haraqija's plan to meet with the witness was confirmed by the minister's agenda which showed no meetings scheduled on Wednesday, 11 July 2007.
Today Haraqija gave evidence in his own defense. In his cross-examination he said that 'on Wednesdays he used to attend meetings of the Democratic League of Kosovo'. His agenda was empty also on that day in previous couple of weeks. In his examination-in chief Haraqija contended that he had 'no intention to meet the protected witness' claiming he had 'no recollection of allowing Morina to travel to a third country'.
In his closing argument the prosecutor noted that Haraqija was vice-president of the Committee for the defense of Ramush Haradinaj. As he explained to the OTP investigators, Haraqija 'was involved with the Committee only after Rugova agreed with that saying that it was not okay to equal executioner and a victim'. He made it clear that he thought of Slobodan Milosevic as 'executioner among sheep'. As Haraqija saw it, the Tribunal looked at Kosovo Albanians the same way as it looked at Milosevic. Ramush Haradinaj 'fought in righteous war and as a KLA commander deserved to be supported', the former minister said in his statement given to the OTP investigators.
The defense called two other witnesses besides Haraqija. One was Haraqija's driver Edmond Kuqi and the other Agim Kasapoli, minister's advisor for sport. They both claimed that they didn't hear the minister issuing any order to Bajrush Morina on 2 July 2007 in Pec. The defense counsels of the two accused will deliver their closing arguments tomorrow.