Home
PARTICIPANTS OF OPERATION 'SAVE HARADINAJ'
Steven Schook, deputy chief of UNMIK, was also listed as a suspect in the case of attempted pressuring of a protected witness due to testify at the Haradinaj Trial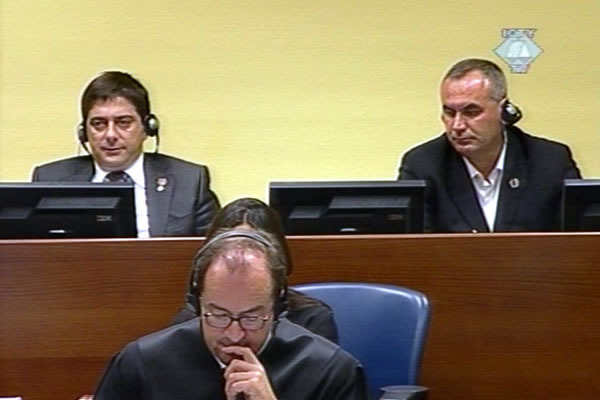 Astrit Haraqija and Bajrush Morina in the courtroom
Before resting its case at the trial of former Kosovo officials Astrit Haraqija and Bajrush Morina, the prosecution called investigator Peter Mitford-Burgess to testify. Burgess led the investigation against the two accused. Haraqija and Morina are on trial for contempt of court for an alleged attempt to influence a protected prosecution witness to either change his evidence or to decide not to testify at the trial of the former KLA commanders Haradinaj, Balaj and Brahimaj. Burgess's examination-in chief mostly went on in closed session.
From his cross-examination it could have been concluded that in December 2007 Burgess interviewed Steven Schook, deputy special envoy of the UN Secretary General for Kosovo, as he was suspected of involvement in an attempt to intimidate a protected witness. The OTP investigator, it was heard today, got the information about Schook's role from the accused Morina.
Astrit Haraqija's defense counsel quoted today an excerpt from a statement Steven Schook gave to investigator Burgess. In it, the former deputy chief of UNMIK categorically denies that he 'ever said to anyone – including Astrit Haraqija – to ask Bajrush Morina to speak to a protected witness in the Haradinaj case' in order to persuade him not to testify. Schook was removed from office in late 2007 after a Kosovo newpapers published a report about his alleged involvement in an attempt to influence the witness and about the indictment against Haraqija and Morina issued by the Hague Tribunal.
The prosecutor read a summary of the statement of the witness testifying under the pseudonym Witness 2. As alleged in the indictment, Haraqija and Morina tried to influence that witness to decide not to testify in the Haradinaj case. In 2007, Witness 2 told the OTP investigators that Morina had telephoned him in the country of his current residence. Morina asked Witness 2 to meet him in 'the name of Rugova's family'. When they first met on 10 July 2007, Witness 2 realized that it was known in Kosovo that he would appear in court to testify at the Haradinaj trial. It was clear to Witness 2 that Morina had come to convey to him a message from Haraqija and a 'high official in the UNMIK'. Witness 2 told Morina that he would not change his evidence if he decided to testify, adding that he 'can't be bought'.
As his cross-examination drew to a close, Witness 2 thanked the court for giving him an opportunity to testify at the trial of Haraqija and Morina. He called on the Trial Chamber to 'acquit those who are not guilty'. Witness 2 confirmed that Morina, former journalist, was 'a friendly and honest person', who 'wanted to paint an objective picture of reality in his texts'. Morina was 'critical of Haradinaj's party' in his texts, Witness 2 noted. The defense wants to show that Haraqija and Morina didn't follow Ramush Haradinaj's ideas but were closer to the political options advocated by late Ibrahim Rugova.
Three defense witnesses are scheduled to be examined tomorrow; the accused Haraqija is one of them. After that the prosecution and the defense counsel will deliver their closing arguments.