Home
PROSECUTION CALLS FOR RETRIAL IN HARADINAJ, BALAJ AND BRAHIMAJ CASE
In its appeal against the acquittal of Ramush Haradinaj and Idriz Balaj and against the six-year sentence imposed on Lahi Brahimaj, the prosecution contends that it was prejudiced by 'the premature ending of the trial' and calls for a permission to re-present evidence on the counts in the indictment charging the accused with the murder and abuse of Albanians, Serbs and Roma in the Jablanica camp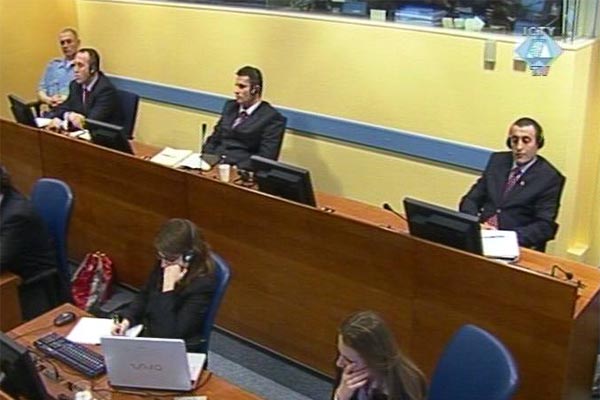 Ramush Haradinaj, Idriz Baljaj and Lahi Brahimaj in the courtroom
In its appellate brief published today, the prosecution expands on the allegations in its notice of appeal, in which it asked for a retrial of the three former KLA commanders on some counts in the indictment. In April 2008, the Trial Chamber acquitted Ramush Haradinaj and Idriz Balaj on all of the thirty-seven counts in the indictment while Lahi Brahimaj was sentenced to six years in prison for cruel treatment and torture of two Kosovo Albanians.
The Trial Chamber, the prosecution notes in its brief, deprived the prosecution of the right to a fair trial because it 'did not allot additional time needed to exhaust fully all reasonable means to secure the evidence of witnesses'. This referred first of all to the evidence of Shefqet Kabashi, former KLA member who was supposed to testify about 'key issues in this case': the relationship of the three accused and their participation in the joint criminal enterprise. The prosecution also notes in its appeal that the Trial Chamber concluded the trial had proceeded in the atmosphere of fear because witnesses were pressured.
Appended to the appellate brief is a statement given by Shefqet Kabashi to the OTP investigators in May 2007, before his appearance in the courtroom where he refused to reply to the prosecutor's questions. In his statement, he says that from April to July 1998 he witnessed the beatings and torture of several men in the KLA-run Jablanica camp. According to Kabashi, Lahi Brahimaj was the camp commander. Kabashi also says Haradinaj was the KLA commander in the Kosovo Dukagjin area; this was alleged in the indictment, but the Trial Chamber made no note of it in the judgment. In Kabashi's words, Idriz Balaj was one of the commanders of an elite KLA unit. When Kabashi spoke to the OTP investigators, he said the two of them visited Brahimaj's headquarters and the prison in Jablanica several times. Although Kabashi doesn't mention this in his statement, the prosecution indicates he was expected to testify about an occasion when he saw Brahimaj and Balaj beat up some prisoners.
The prosecution notes in its appellate brief that there is another 'key witness' apart from Kabashi who was expected to appear at the trial, but whose name was not disclosed for security reasons.
The prosecution asked for a retrial on some counts in the indictment, and for the conviction of Idriz Balaj on the charges of murder of three persons (a mother and two sisters of the protected witness 4), rape and abuse of one female witness and cruel treatment of her husband who also gave evidence at the trial.
Lahi Brahimaj also appealed against the judgment. His defense counsel contest the credibility of protected witnesses testifying under the pseudonyms 6 and 3. Brahimaj was convicted mainly on the evidence given by these two former Jablanica camp detainees. The defense called for Brahimaj's acquittal.