Home
PROSECUTION: UNPRECEDENTED ATMOSPHERE OF INTIMIDATION
Deputy Chief Prosecutor Norman Farrell noted in his statement to our agency that the judgment delivered by the Appeals Chamber in the Haradinaj et al. case was extremely "important' as the judges recognized there was 'an unprecedented atmosphere of widespread and serious intimidation of witnesses' during the trial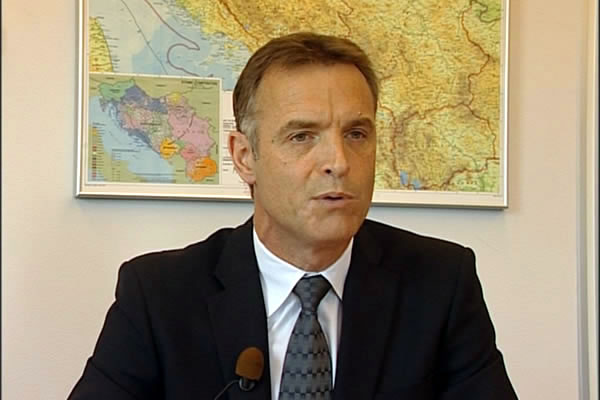 Norman Farrell, the Deputy Prosecutor
Deputy Chief Prosecutor Norman Farrell sees the judgment of the Appeals Chamber in the case of three former KLA commanders, Ramush Haradinaj, Idriz Balaj and Lahi Brahimaj, as extremely "important'. This week, the Appeals Chamber quashed the acquittal of Haradinaj and Balaj, ordering a partial re-trial on six counts in the indictment that charge the three accused with participation in a joint criminal enterprise to commit crimes against Albanians, Serbs and Roma in the prison in Jablanica.
In his statement to the TV program Tribunal produced by SENSE Agency, Farrell stressed that the Appeals Chamber recognized the 'unprecedented atmosphere of widespread and serious intimidation of witnesses' during the trial. In the view of the deputy chief prosecutor, the Appeals Chamber has also 'recognized the fact that the witness intimidation undermined the fundamental objectives of the Tribunal'.
Farrell noted that the judges concluded that "it was important that adequate steps be taken to confront intimidation of witnesses". The prosecution believes "it is not only the need to ensure that the witnesses are protected but as importantly in this case, to determine that there was a need to ensure that evidence of the witnesses was brought for by these witnesses and that the fairness of the proceedings was safeguarded".
In its appeal, the prosecution argued it was denied the right to a fair trial when it was not granted permission to hear the 'key' evidence of former KLA member Shefqet Kabashi. In two statements he had given to the OTP investigators Kabashi said that Balaj and Brahimaj beat up prisoners in the Jablanica prison camp in Haradinaj's presence. The prosecution also wanted to be given a chance to call a witness who was given pseudonym 30, who was prisoner in the Jablanica prison. Both witnesses refused to appear in the courtroom in fear for their personal safety.
As Farrell stressed, the Appeals Chamber judgment has recognized that the fairness of the trial was affected because the prosecution was denied the right to a fair trial. 'And it's that denial of fair trial that won us the retrial in partial counts in this case', Farrell concluded his statement to our agency.