Home
PROSECUTION CALLS FOR RE-TRIAL OF HARADINAJ ET AL.
Prosecution calls for a re-trial in its notice of appeal against the judgment of three former KLA commanders. The Trial Chamber 'abused its authority when it put an end to the prosecution case' preventing it from calling evidence on the participation of the accused in the joint criminal enterprise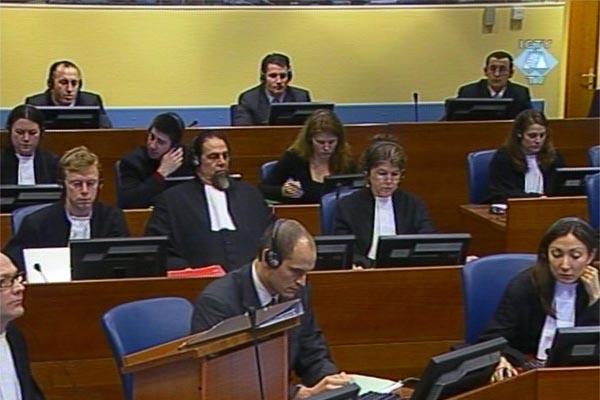 Ramush Haradinaj, Idriz Balaj i Lahi Brahimaj u sudnici Tribunala zadnjeg dana suđenja
In its explanation of the first of the three grounds of appeal against the judgment of Ramush Haradinaj, Idriz Balaj and Lahi Brahimaj, the prosecution quotes the conclusion of the Trial Chamber that the trial of the three former KLA commanders proceeded in the atmosphere of "witness intimidation and fear". According to the prosecution, the Trial Chamber denied the prosecution the right to a fair trial "by not granting it the additional time to exhaust all reasonable steps to obtain the testimony of witnesses', including Shefqet Kabashi. Kabashi was expected to testify on 'issues central to this case'.
As alleged by the prosecution, instead of allowing necessary steps to be taken to ensure Kabashi's appearance before the court, the Trial Chamber 'ordered the prosecution case closed'. In its notice of appeal, the prosecution sees this decision of the judges as 'an abuse of discretion of the Trial Chamber'.
The error of law of the Trial Chamber, in the view of the prosecution, made it impossible to call any evidence on the participation of Haradinaj, Balaj and Brahimaj in the joint criminal enterprise aimed at the detention, torture and killing of Serbian, Albanian and Roma civilians in the KLA headquarters and in the Jablanica prison. These crimes are qualified as violations of laws and customs of war.
The defense didn't present its case. The defense teams might have decided otherwise had the Trial Chamber decided to hear the testimony of key witnesses, and the prosecution believes that the fairest option would be to have a re-trial on the six counts in the indictment charging the accused with participation in the joint criminal enterprise and with individual criminal responsibility for the crimes in these counts.
In the second and third ground for the appeal, the prosecution calls for the revision of the decision to acquit Idriz Balaj on the counts in the indictment charging him with the murder of three persons – a mother and two sisters of protected witness 4 – as well as with rape and torture of one witness and cruel treatment of her husband who also gave evidence at the trial.
The appeal was filed exactly one month after the judgment was delivered. Haradinaj and Balaj were acquitted on all thirty seven counts in the indictment, while Brahimaj was sentenced to six years on charges of cruel treatment and torture. The prosecution now has two months to prepare a detailed appellate brief.