Home
STRIPPING NAKED WORSE THAN DEATH
Mother and son who managed to escape the living pyre in the Pionirska Street on 14 June 1992 gave evidence at the trial of Milan and Sredoje Lukic, charged with crimes committed in Visegrad. The witnesses recounted how they were humiliated before the house in which they were shut in together with some 70 other Bosniak prisoners was set on fire. Only seven of them survived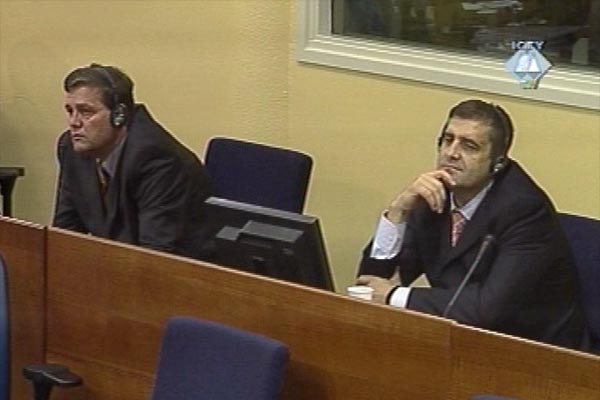 Milan and Sredoje Lukic in the courtroom
Two survivors of the massacre in the Pionirska Street in Visegrad, mother and son testifying under the pseudonyms VG-18 and VG-84 gave evidence about what happened on 14 June 1992 when some 70 Bosniaks from the village of Koritnik were burned alive in a house in the Pionirska Street in Visegrad.
VG-84 was barely 14 years-old when he was shut in a house in the Pionirska Street together with his mother and about 70 of his neighbors. In his brief examination-in chief by the prosecutor he said that there were some fifteen other children in the house, including a two-day old baby. He couldn't imagine that he would 'burn in flames' at the age of fourteen; he 'played until the very last moment'.
In his replies to the defense counsel of Milan and Sredoje Lukic, the witness confirmed that he didn't know the two accused before that day. He had heard their names from older people who recognized them when they came to the house to take away their 'money and gold'. In his words, when the JNA had left Visegrad, 'everybody was scared' when the names of Milan and Sredoje Lukic were mentioned. The rumor had it that they go around Muslim villages 'burning down houses and taking men away'. The witness was not able to identify them in the courtroom because, as he put it, he was 'too young to be able to clearly remember faces'.
In the part of her evidence given in public session, VG-18, housewife from the village of Koritnik and mother of witness VG-84 talked about the humiliation and abuse of captured women prior to the fire. Being forced to strip naked together with other women was, as she said, 'worse than death'. The witness said that in that afternoon Milan Lukic took two young girls away for several hours. When they returned, everybody was 'ashamed' to ask them what had happened, but everybody guessed that they had been raped.
'It hurts to know that my village is empty', the witness said at the end of her evidence. She was visibly upset. She said that ever since 14 June 1992 she had had problems 'with nerves and high blood pressure' every time she thought about this incident.
The trial of Milan and Sredoje Lukic will continue on Monday when the defense counsel will examine the witness VG-18.