Home
BULLET OR PYRE
In her evidence at the trial of Milan and Sredoje Lukic, prosecution witness VG-13 describes how she managed to save her son and herself from the house in the Pionirska Street in Visegrad where some 70 Bosniak women, children and old men were locked in and burned alive in June 1992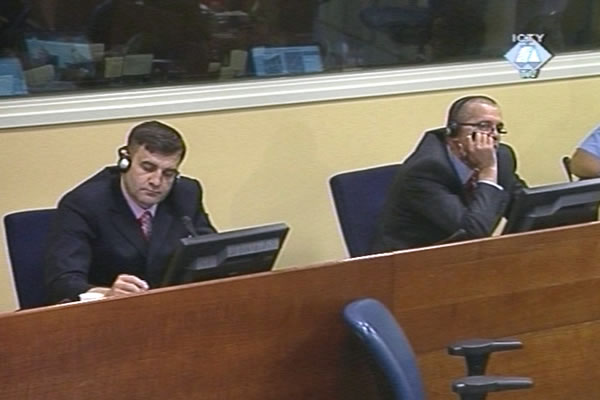 Milan i Sredoje Lukic in the courtroom
'I decided that I'd rather be killed by a bullet because there is no worse death than being burned alive'. This is what protected witness testifying at the trial of Milan and Sredoje Lukic under the pseudonym VG-13 said explaining why she had decided to try to save herself and her 14-year old son by jumping out of the window of the house in the Pionirska Street in Visegrad. Some 70 Muslims were set on fire and burned alive in that house on 14 June 1992.
In her evidence yesterday, the witness recounted the events that led to the massacre. Today VG-13 described in detail the living pyre in the Pionirska Street. The carpets in one of the rooms in Adem Omeragic's house were 'sticky and wet from some liquid'. An hour after they were locked in that house, she said, Milan Lukic showed up on the door, accompanied by Mitar Vasiljevic. Lukic threw an explosive device into the house. The carpets caught fire and the flames went 'high up, as if they were there to keep God warm', as she described.
Although the explosion injured her leg and her hand was on fire, VG-13 decided to throw her son out through the window first and then to jumped our herself and try to run away. As she was jumping out, a bullet hit her in the left shoulder, but she managed to hide in a creek nearby. From there she heard the 'cries and sobbing' from the house for some hours. She then moved to a sewer close by, where she remained for the next three days.
After three days with no food, water and sleep, she got out of the sewer. Her 'wounds were infested with maggots'. She ate a 'handful of green plums and an onion' and managed to 'creep' to a Bosniak village not far away. That same evening, after receiving first aid, she continued on towards Gorazde 'through the woods', where she was finally hospitalized. Five months later, the witness learned that her son was alive but did not reunite with him until 1995. Her son testified at this trial earlier this week under the pseudonym VG-38.
Milan Lukic's defense counsel insisted that VG-13 didn't know Milan Lukic personally. Therefore, in his view, she could have wrongly identified him as the perpetrator under the influence of 'widespread stories about his alleged crimes'. The witness replied she didn't come to the Tribunal to accuse anyone but to speak the truth; it is up to the court to decide who is right and who is wrong.
Sredoje Lukic's defense counsel again claimed that his client had taken no part in this incident. In fact, Sredoje Lukic was not in Visegrad that day at all, he said. The witness admitted that she had not seen Sredoje Lukic, but other prisoners in the Pionirska Street house had said he had been there.
The trial of Milan and Sredoje Lukic continues tomorrow.