Home
MILAN LUKIC ASKS FOR DISQUALIFICATION OF JUDGES
After the defense of Milan Lukic once again failed to start its case, the Trial Chamber decided to subtract the time for the examination of those two witnesses from the total time allotted to the defense for its case. The defense called for the disqualification of the Trial Chamber including the presiding judge, current ICTY president, Judge Robinson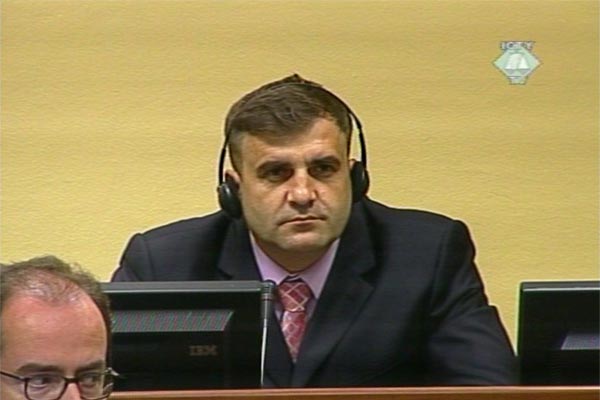 Milan Lukic in the courtroom
The third attempt for Milan Lukic's defense to start its case failed today after the American defense counsel Jason Alarid informed the flabbergasted judges that he decided not to deliver the opening statement and that his first witness had not yet arrived in The Hague, blaming the Tribunal's Victims and Witnesses Unit for the delay.
The reasons why the witness failed to appear were discussed, for the most part, in closed session. The presiding judge Patrick Robinson finally said that the postponements of the defense case 'despite the warnings given by the Trial Chamber' were tantamount to 'obstruction of justice'. The time allotted for the hearing of two witnesses scheduled to be completed last week will be subtracted from total time given to the defense for its case, the judge said.
Judge Robinson reminded the court that Milan Lukic's defense was expected to begin examining its first witnesses on 3 December 2008. However, the defense asked for a postponement until 9 December 2008, only to appear in court unprepared again, forcing the Trial Chamber to order another postponement until 15 December 2008. Despite all that, the Trial Chamber stressed it expected the defense to rest its case by 6 March 2009.
Milan Lukic's defense today filed its motion for disqualify the Trial Chamber because of 'a significant risk of prejudice'. According to the defense, this is possible because of the ex-parte investigation by the Trial Chamber against members of the defense team for alleged involvement in attempts to 'bribe and intimidate witnesses'. The motion to disqualify the judges notes that after the investigations all parties, including the Trial Chamber, 'now probably believe' that the defense 'has no case and is trying to buy witnesses'. The recent appointment of the presiding judge as the ICTY president, the defense noted, is yet another reason for his disqualification.
The indictment alleges Milan and Sredoje Lukic took part, as immediate perpetrators, in two incidents in which about 140 civilians were burned alive in two houses in Visegrad. They are also charged with abuse of prisoners in the Uzamnica camp during the BH war. The prosecutor has also called evidence to show that Milan Lukic is responsible for the execution of 14 Bosniaks on the Drina river bank and the murder of a Muslim woman.