Home
KRAJISNIK: I WAS NOT AWARE OF CRIMES
At the appellate hearing on the appeals against the first-instance judgment sentencing Momcilo Krajisnik to 27 years in prison, the accused denied any knowledge of crimes committed against Muslims and Croats in BH in 1992. Krajisnik called for his acquittal while the prosecution asked for life sentence for the former Bosnian Serb Assembly speaker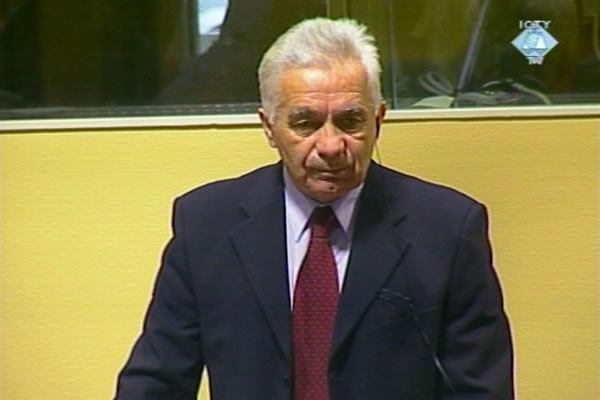 Momcilo Krajisnik in the courtroom
Delivering his arguments before the Appeals Chamber, due to consider the appeals against the judgment delivered in September 2006 sentencing him to 27 years in prison, Momcilo Krajisnik claimed he had not been aware of the crimes committed in Bosnia and Herzegovina in 1992. As he noted, 'in the wartime, I did only two or three things: I was the parliament speaker and a negotiator; I was not a member of the Bosnian Serb presidency either
de iure or de facto
.'
In his written motion, Krajisnik listed two other grounds of appeal. According to him, his rights were compromised because he 'didn't have a competent defense counsel'. Also, he denies he was a member of any joint criminal enterprise adding that all he was trying to do was 'try to reach a peaceful solution by negotiations'. In his words, he was not given any information about what the local Serb authorities were doing in some BH municipalities.
Part of Krajisnik's appeal – legal arguments concerning the participation of the accused in the joint criminal enterprise – was drafted and presented by brothers Allan and Nathan Dershowitz, attorneys from USA. As they put it, the indictment defined members of the joint criminal enterprise too broadly. 'The only person not listed as a member is me', Nathan Dershowitz concluded. Allan Dershowitz noted that the prosecution prosecuted Krajisnik 'on the grounds of his political statements and speeches that could be interpreted in many ways'; those could not be grounds for war crimes charges.
In reply to the defense arguments, the prosecution reminded the Appeals Chamber that Krajisnik was not charged with the crime of hate speech. He was indicted for joining a criminal enterprise aimed at the perpetration of grave crimes over a wide-spread area, including murders, deportation, persecution and forcible transfer of population. His conviction, the prosecutor noted, was not just a result of Krajisnik's political speeches. The judgment was delivered on the basis of 'the totality of evidence, showing the participation of Bosnian Serb leadership in the implementation of a joint criminal plan'.
Amicus curiae Colin Nichols presented arguments in support of nine grounds of appeal. In his view, Krajisnik didn't get a fair trial and the Trial Chamber erred both in law and in fact regarding the issues of joint criminal enterprise, deportation, forcible transfer, the position the accused held in the Bosnian Serb hierarchy and his awareness of the crimes. Nichols concluded that the sentence Krajisnik received was 'too harsh'.
The prosecution also appealed against the judgment; in its view, life sentence would be the only punishment proportionate to the crimes that were committed.
The appellate proceedings in the Momcilo Krajisnik case are not over yet. The Trial Chamber granted Krajisnik permission to 'interview' Radovan Karadzic by 15 September 2008 in order to decide whether he would call him to testify in his defense. If Karadzic takes the stand, the prosecution will get a chance to cross-examine him.