Home
KRAJISNIK CALLS KARADZIC TO TESTIFY
Following their conversation on 12 September 2008 in the UN Detention Unit, Krajisnik decided that former RS president Karadzic might help him to overturn the judgment sentencing him to 27 years in prison. If the Appeals Chamber grants his motion to call Karadzic as his witness, the prosecution will have a unique opportunity to cross-examine Karadzic before his trial begins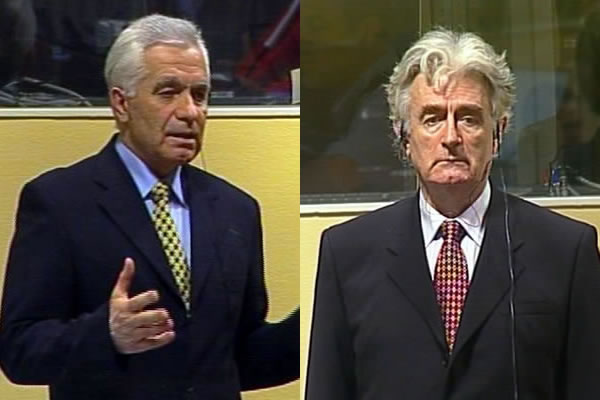 Momcilo Krajisnik and Radovan Karadzic
In a motion filed to the Appeals Chamber Momcilo Krajisnik asked for permission to call Radovan Karadzic as his defense witness in the appellate proceedings. In September 2006, the Trial Chamber convicted former Bosnian Serb political leader Krajisnik of extermination, murder, deportation, forcible transfer and persecution of Bosnian Muslims and Croats, sentencing him to 27 years.
Krajisnik decided to call Karadzic to testify following the conversation the two of them had had on 12 September 2008 in the UN Detention Unit. Their meeting was set up by the ICTY Registry with the permission of the Appeals Chamber. Krajisnik concluded that 'Karadzic's evidence might have an impact on most of the conclusions the Trial Chamber reached', particularly those about "political precursors, administration of Bosnian-Serb Republic and the responsibility of the accused".
As Krajisnik notes, Karadzic was one of the most significant figures to feature in the trial. In its judgment, the Trial Chamber states the two of them were 'closest associates running Republika Srpska as their personal fief, supporting each other's views'. According to the Trial Chamber, Karadzic treated Krajisnik as his 'private prime minister'.
Krajisnik now reminds the Appeals Chamber that the Trial Chamber decided to call and examined four 'leading political figures' from Republika Srpska – Plavsic, Djeric, Subotic and Ostojic; they gave evidence after both parties had already rested. Krajisnik is sure they would have called Karadzic had he been at their disposal then. Krajsnik's trial was completed in September 2006; Radovan Karadzic was a fugitive until 21 July 2008.
Since he decided to call Karadzic to testify, Krajisnik asked to be allowed to meet with Karadzic again in order to be able to establish the exact scope of his evidence.
If the Appeals Chamber grants Krajisnik's request and allows the testimony of Radovan Karadzic, the prosecution will be given a unique opportunity to cross-examine the accused whose arrival in The Hague was awaited for thirteen long years.