Home
KARADZIC'S EVIDENCE
Former Bosnian Serb assembly speaker Momcilo Krajisnik has submitted a summary of Radovan Karadzic's evidence in Krajisnik's defense before the Appeals Chamber on 5 November 2008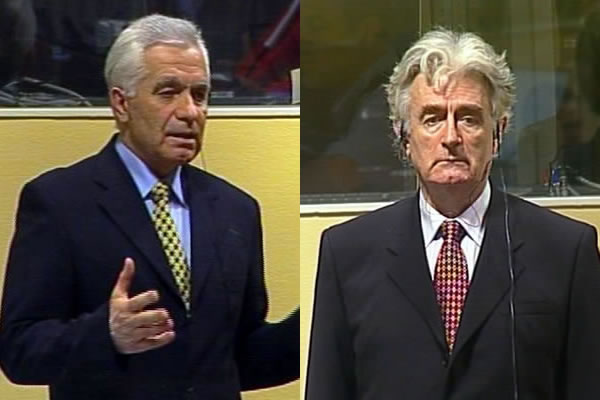 Momcilo Krajisnik and Radovan Karadzic
With the evidence of Radovan Karadzic in the appellate proceedings, Momcilo Krajisnik's defense will deny there was a connection between the former Bosnian Serb assembly speaker and the army and its commander Ratko Mladic in an attempt to portray Krajisnik as a civil servant not involved in the war. In September 2006, Krajisnik was convicted of the extermination, killing, deportation, forcible transfer and persecution of Bosnian Muslims and Croats in 1992 and was sentenced to 27 years in prison. His witness Radovan Karadzic faces charges of genocide and other crimes in BH from 1992 to 1995.
According to the 'summary of facts', in his evidence Karadzic will confirm the defense argument that Krajisnik was not on the five-member 'war' Presidency of Republika Srpska; he was only on the regular three-member Presidency. Karadzic will also confirm that Krajisnik was neither 'the number two' in the Bosnian Serb military and political hierarchy nor his 'personal prime minister' as the Trial Chamber put it.
In Karadzic's opinion, the Trial Chamber erroneously found in its judgment that Ratko Mladic was 'led' by the strategic aims that Krajisnik helped formulate. Krajisnik's political actions, Karadzic will testify, were 'acceptable and adequate', never inciting to war crimes.
The list of topics Karadzic will cover includes Krajisnik's alleged lack of knowledge about the crimes against non-Serbs in BH in 1992. Karadzic will say that, as far as he knows, Krajisnik never heard of 'the imprisonment of Muslim and Croat civilians, their deportation, forcible transfer, cruel treatment, killing and extermination'.
Karadzic will also testify about the joint criminal enterprise that included himself and Krajisnik, as the Trial Chamber found.