Home
DERSHOWITZ APPEARS BEFORE ICTY FOR THE FIRST TIME
Alan Dershowitz, Krajisnik's counsel on the joint criminal enterprise issue, is granted another week to file the appellate brief he was drafting, but then stopped working on it because of 'problems with the fee'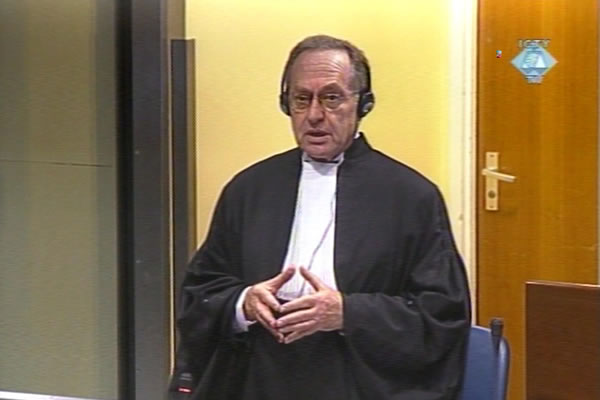 Alan Dershowitz appearing in the limited capacity of defense attorney for Krajisnik
Famous American attorney Alan Dershowitz appeared for the first time before the Tribunal at today's status conference in the Momcilo Krajisnik case 'in a limited capacity as counsel'. The Appeals Chamber granted Dershowitz, who had represented American football star O.J. Simpson in his trial, to write a part of the appellate brief on the joint criminal enterprise on behalf of Momcilo Krajisnik. Krajisnik, former Bosnian Serb Assembly speaker, was sentenced by the Trial Chamber to 27 years as a participant in the joint criminal enterprise aimed at 'ethnically changing the territories designated by the Bosnian Serb leadership' by expulsion and other crimes.
Dershowitz was due to file his brief last Friday and the Appeals Chamber first rejected Krajisnik's request for the extension of the deadline. At today's status conference, however, pre-appellate judge Theodor Meron agreed to a week's extension of the deadline, 'until Monday, 7 April 2008' 'in the interest of justice'. Because he is on the black list of persons prohibited to do business in the USA, Krajisnik had 'difficulties with paying' Dershowitz's fee which is why he called for the extension of the deadline. It was not specified if these difficulties had been resolved in the meantime.
Dershowitz today managed to get the deadline for the brief extended. He also announced that Momcilo Krajisnik would soon seek leave to call additional evidence before the Appeals Chamber. The evidence that was not available during the trial consists of certain video recordings but neither the accused nor his counsel disclosed their contents.