Home
DEFENSE: GENERAL LAZEREVIC NOT GUILTY
Had General Vladimir Lazarevic known of a plan to expel Albanians from Kosovo in 1999, his subordinates in the Pristina Corps under his command at the time would not have sent the refugees back to their villages, the defense contends urging the Trial Chamber to acquit their client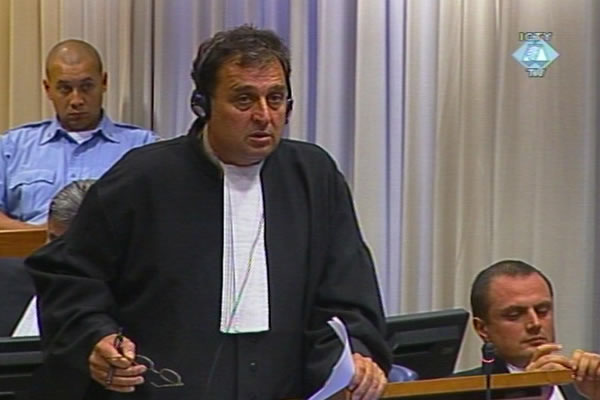 Mihajlo Bakrac, defense attorney for Vladimir Lazarevic
As the closing arguments continue at the trial of six former Serbian officials charged with crimes against Kosovo Albanians in 1999, the Trial Chamber was addressed today by the defense of the former commander of the VJ Pristina Corps, Vladimir Lazarevic. Defense counsel Mihajlo Bakrac called for his acquittal: in his view, the prosecution has failed to prove beyond reasonable doubt that the accused took part in the joint criminal enterprise aimed at ethnically cleansing Albanian civilians.
According to the defense counsel, in 1999 Lazarevic 'legitimately believed' he was fighting for the territorial integrity of his country. Lazarevic was not aware of a plan to expel Albanians. There is a lot of evidence about the efforts undertaken by the VJ personnel under Lazarevic's command to send back refugees to their homes, the defense contends proving this point.
The prosecutor based his allegations about the participation of the accused general in the joint criminal enterprise on Lazarevic's involvement in the Joint Command of the military and police for Kosovo. As alleged in the indictment, this body was Slobodan Milosevic's tool for the implementation of his ethnic cleansing plans. The defense counsel denied today that Lazarevic had ever been a member of the Joint Command, although the minutes from several sessions of this body in 1998 show that the general was attendance. The prosecution tendered the minutes into evidence. 'My client had no role in the Joint Command, a body that itself played no role', Bakrac concluded, speaking about this issue. During its case, the defense argued that the Joint Command actually never existed, particularly not in 1999. Orders bearing the letterhead of this body, the defense contended, were in fact meant to indicate that there would be coordinated action of the army and the police.
General Lazarevic has undergone emergency surgery recently and didn't appear at the hearing today. The hearing ended early today because of a plenary session of the Tribunal's judges. The defense of the police General Sreten Lukic will begin its closing argument tomorrow.