Home
DEFENSE WANTS MILUTINOVIC AND SAINOVIC ACQUITTED
The defense teams of the former Serbian president and the deputy prime minister of the Federal Republic of Yugoslavia claim their clients are not responsible for the crimes against Kosovo Albanians in 1999, denying any links between their clients with Slobodan Milosevic; the prosecution claims Milosevic was the ringleader of a joint criminal enterprise aimed at ethnically cleansing Kosovo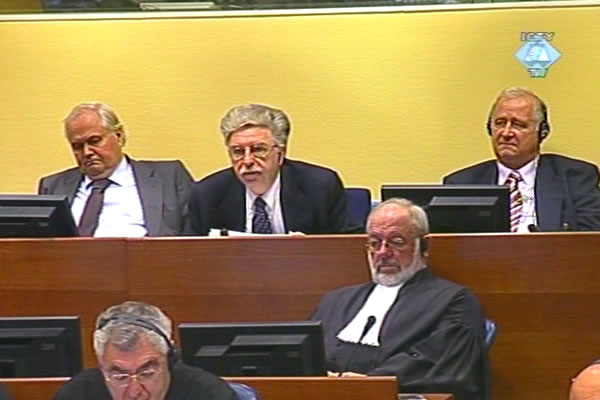 Milan Milutinovic, Nikola Sainovic and Dragoljub Ojdanic in the courtroom
The defense teams of the former Serbian president Milan Milutinovic and former deputy prime minister in the FRY government Nikola Sainovic call for the acquittal of their clients on all charges. In their view, their clients did not take part in a joint criminal enterprise that resulted in the expulsion of more than 800,000 Albanians from Kosovo during the NATO campaign in 1999. Several thousand Kosovo Albanians were killed. Three military generals, Dragoljub Ojdanic, Nebojsa Pavkovic and Slobodan Lazarevic, and former commander of the MUP Staff for Kosovo, Sreten Lukic, are on trial for the same crimes.
[IMAGE]3584[/IMAGE]Milutinovic's defense claims that he, as the president of Serbia, had no authority over the military and police in Kosovo, and that he was not involved in any criminal acts. The Yugoslav Army was under the exclusive command of the federal president Slobodan Milosevic, the defense claims. Milutinovic had no way of influencing his decisions or moves, although he sat on the Supreme Defense Council. In Rambouillet and at other Kosovo crisis talks, Milutinovic sought solutions 'through dialogue and compromise', his defense claims. As a politician, he was always opposed to any radical views.
Responding to the prosecution claims that Milutinovic did nothing to prevent the crimes or punish the perpetrators, the defense claimed that the accused had no reason to suspect that 'anything inappropriate' was happening in Kosovo in 1999. When Milutinovic heard about the crimes against Albanian civilians from the foreign media, he looked into the allegations and received assurances from his associates that this was propaganda; he thus had no reason to take any steps, the defense contends.
Lawyer Toma Fila went on to explain why he called for Nikola Sainovic's acquittal. The level of proof offered by the prosecution in support of the allegations against his client is very low, he claimed, and there is reasonable doubt, to say the least, that he was actually appointed as head of the Joint Command of the military and police for Kosovo, on Milosevic's orders. Had Sainovic been 'Milosevic's man', as the prosecution contends, then the two would have met more often in 1999, and no evidence has been called to corroborate this. Apart from denying Sainovic's 'close ties' with Milosevic, the defense claims that his position in the course of the Kosovo conflict was substantially different from the position of the other five accused: some of them were heads of state while others held high positions in the military or police.
As the hearing drew to a close today, the defense of General Dragoljub Ojdanic, former Chief of the VJ General Staff, started with its closing argument.