Home
DEFENSE WANTS OJDANIC AND PAVKOVIC ACQUITTED
As the defense continues with the closing argument at the trial of the Kosovo Six, the defense teams of the former Chief of the General Staff and the former 3rd Army commander call for the acquittal of their clients, noting that they are 'unjustly accused' and that their responsibility 'is nowhere near to being proven'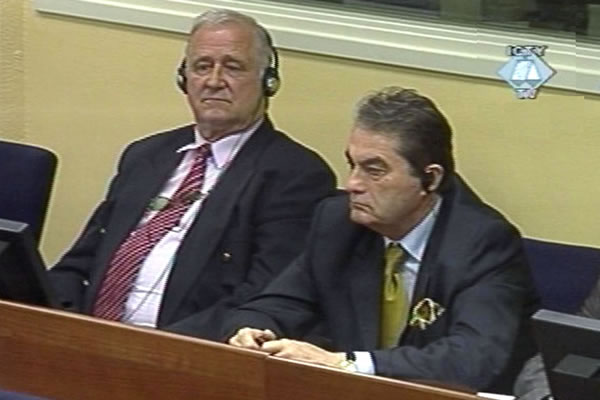 Dragoljub Ojdanic and Nebojsa Pavkovic in the courtroom
The prosecutor failed to prove beyond reasonable doubt that Dragoljub Ojdanic, former chief of the VJ General Staff, aided or abetted or participated in a joint criminal enterprise aimed at changing the ethnic structure of Kosovo and establishing permanent Serbian control over Kosovo province. [IMAGE]3588[/IMAGE]In his closing argument, defense counsel Norman Sepenuk noted that Ojdanic was 'unjustly accused', calling on the Trial Chamber to acquit him on all counts in the indictment charging him and other former Serbian officials with persecution, deportation, forcible transfer and killing of Albanian civilians in 1999.
The defense counsel pointed that he couldn't 'imagine any soldier behaving more honorably' in wartime than Ojdanic did. In his words, Ojdanic's orders and the booklets he distributed to his soldiers called for strict observation of international humanitarian law. He also banned the operations of paramilitary units in Kosovo and called for an investigation whenever he had any indications that crimes had been committed in Kosovo. Reminding the court of what Ojdanic said before the NATO campaign started – that 'the war option is the best way to lose Kosovo', defense counsel Sepenuk said that his client had hoped the politicians would solve the Kosovo crisis peacefully. As Sepenuk put it, Ojdanic was involved in a war he didn't want.
[IMAGE]3589[/IMAGE]According to John Ackerman, the defense counsel of General Nebojsa Pavkovic, former commander of the VJ Third Army, Pavkovic's responsibility is 'nowhere near to being proven'. Calling for his acquittal Ackerman noted that during the war his client did what every good soldier must do: Pavkovic obeyed orders and abided by law. The defense denied the prosecution's allegation that Pavkovic failed to do anything to prevent crimes against Kosovo Albanians. The defense counsel highlighted 27 orders Pavkovic issued in 1999 demanding that his subordinates observe international laws of war. 'Does the prosecutor believe that the accused should have issued 28 or 30 such orders?', the defense counsel asked rhetorically.
The defense sees the prosecution argument about 'mass crimes' committed in 1999 against Kosovo Albanians as 'exaggerated'. This would be an apt description of what happened in Rwanda or in Srebrenica, but not in Kosovo. According to the defense counsel, the crimes are inevitable in every war and that doesn't mean that commanders are responsible for each and every isolated incident involving their subordinate soldiers.
As the hearing today drew to a close, General Vladimir Lazarevic's defense began its closing argument. General Lazarevic was not present in the courtroom today and yesterday. His defense counsel told the Chamber that Lazarevic was in the Detention Unit hospital. However, the exact nature of Lazarevic's health problems was not disclosed and it remains uncertain whether he would appear before the court on Monday when his defense is expected to complete its closing argument.