Home
HARAQIJA AND MORINA DUE IN COURT TOMORROW
Former Kosovo minister and his associate are charged with contempt of court for attempting to pressure a prosecution witness at the trial of Haradinaj, Balaj and Brahimaj. They arrived in The Hague and will enter their plea tomorrow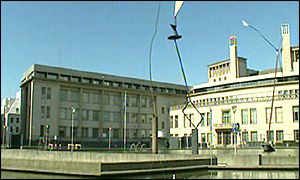 Headquarter of the Tribunal in Den Haag
Former Kosovo minister of culture, youth and sport Astrit Haraqija and his associate Bajrush Morina arrived in The Hague today. Tomorrow afternoon, they will enter their plea before the Tribunal on the contempt of court charges. As alleged in the indictment, they attempted to pressure a protected witness into not testifying at the trial of Ramush Haradinaj, Idriz Balaj and Lahi Brahimaj.
The indictment alleges that in July 2007, Haraqija, as one of the founders of the Committee for the Defense of Ramush Haradinaj, ordered Morina to travel to the country of residence of a protected witness to persuade him not to go to The Hague. The witness refused to bow to the pressure and appeared before the Tribunal. In January 2008, chief prosecutor Serge Brammertz decided to press charges for contempt of court against the two Kosovo officials. The indictment was confirmed in February 2008. Until its disclosure last Friday on the prosecution's request, it was kept under seal of the Tribunal.
Earlier this month Ramush Haradinaj and Idriz Balaj were acquitted on all thirty seven counts in the indictment charging them with kidnapping, detention, torture and killing of Serbian, Albanian and Roma civilians. Lahi Brahimaj, the third accused in the case, was found guilty of two instances of cruel treatment and torture in the Jablanica camp and was sentenced to six years in prison. The trial was burdened with constant problems with witnesses. In the statement of reasons in the judgment the Trial Chamber emphasized it was under 'a strong impression that the trial proceeded in an atmosphere in which the witnesses did not feel safe'.