Home
YET ANOTHER UNWILLING WITNESS ARRESTED
Ljube Krstevski, former chief of the police station in Cair, on the outskirts of Skopje, was arrested and transferred to the Tribunal's detention unit after he refused to testify at the trial of Ljube Boskoski and Johan Tarculovski. At his initial appearance before an ICTY judge today, the prosecution asked that the contempt of court charges against him be dropped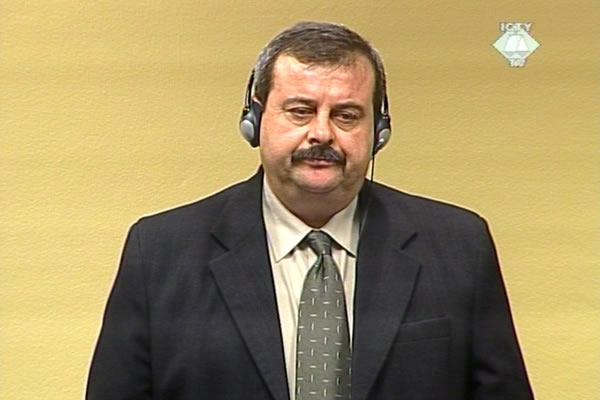 Ljube Krstevski in the courtroom
Ljube Krstevski had his initial appearance before the Tribunal this afternoon. The hearing was not announced in advance. He was charged with contempt of court after he refused to testify at the trial of Ljube Boskoski and Johan Tarculovski. The two are charged with an unlawful attack on the village of Ljuboten near Skopje on 12 August 2001.
Before Krstevski was even given a chance to enter his plea, prosecutor Dan Saxon addressed the judge and asked that the charges be dropped. As this must be considered by the entire Trial Chamber, Judge Krister Thelin ordered the prosecutor to file the motion in writing by next Monday. The defense counsel assigned to Krstevski was given until 6 December 2007 to file his response. Judge Thelin ordered that Krstevski is to remain in the custody of the Tribunal until the Trial Chamber has ruled on the motion.
Krstevski's initial appearance had not been announced in advance. At the end of it, it was stated at the Tribunal that the indictment against him was issued on 23 October 2007 and confirmed on 30 October 2007. He has been in the UN Detention Unit since yesterday.
At the time of the attack on Ljuboten, Krstevski was the chief of Cair police station. At least 76 inhabitants of Ljuboten, arrested during the police action in that village, were taken to his police station on 12 August 2001. According to the prosecution witnesses, police officers beat the prisoners with their fists, boots, wooden bats and metal tubes. One prisoner suffered a broken rib. Another one was thrown on the floor, sustaining head injuries.
Half an hour after the initial appearance of Ljube Krstevski, the trial of Boskoski and Tarculovski continued in closed session with the examination of the last prosecution witness.
Krstevski is the fifth 'unwilling witness' charged with contempt of court in the past few months and the third witness to be arrested and transferred to the UN Detention Unit for refusing to comply with a subpoena to testify. This shows that the judges have decided to take a firmer stand against those who try to evade their obligation to comply with the orders issued by the ICTY.