Home
KOSOVO JOURNALIST ON TRIAL
The trial of Baton Haxhiu, journalist from Pristina, was concluded in record time. The prosecution called for his conviction on contempt of court charges asking for a fine of € 15,000 to be imposed. The defense argues Haxhiu 'didn't intend to violate the Tribunal's order', calling for his acquittal. If the Trial Chamber does find him guilty, the defense added, Haxhiu should be 'reprimanded'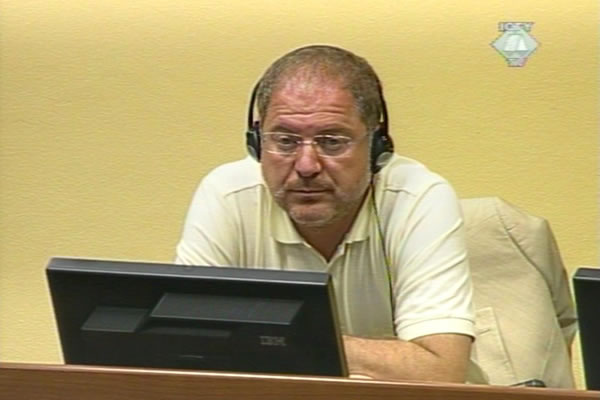 Batonu Haxhiu in the courtroom
The trial of Kosovo journalist Baton Haxhiu charged with contempt of court for making public the identity of a protected witness who testified in the trial of Haradinaj, Balaj and Brahimaj, former KLA commanders, was completed in a single day. The prosecution called for his conviction on contempt of court charges, recommending that the Trial Chamber impose a fine of € 15,000. The defense contends that Haxhiu didn't violate the Rules of Procedure and Evidence, arguing that the charges against him should be dropped. If the Trial Chamber does find Haxhiu guilty, the defense counsel concluded, then it should 'reprimand Haxhiu to prevent such conduct in the future'.
Before the prosecution and the defense presented their cases and called evidence, Haxhiu addressed the Trial Chamber, saying once again he was innocent. He admitted to revealing the identity of a prosecution witness in an article discussing the investigation conducted by the OTP against former Kosovo culture minister, Astrit Haraqija and his associate, Bajrush Morina. Both Haraqija and Morina have in the meantime been charged with contempt of court for trying to pressure a protected witness not to give evidence. Haxhiu published the name of that witness in an article about the investigation.
Today Haxhiu explained how he thought that the 'public should be aware of the developments in the activity of their political leaders'. 'If the citizens are kept ignorant, in the dark, their future can be at risk', he noted. The name of the protected witness was revealed to Haxhiu by a UNMIK official who later left Kosovo.
According to the prosecution, by publishing the identity of a protected witness Haxhiu 'knowingly and willfully' obstructed the administration of justice and 'ignored the Tribunal's orders'. The only witness to take the stand at the trial, an OTP investigator, confirmed the prosecution argument, saying that Haxhiu told him in February 2008 that he knew the witness was protected. Haxhiu also told him he knew that he violated the Rules of the Tribunal when he published the witness's identity.
Haxhiu's defense counsel believes that his client didn't intentionally violate the court order, allowing that the Trial Chamber might find him guilty. In that case, the defense counsel contends, the judges should take as a mitigating circumstance the fact that the witness testified at the trial of Slobodan Milosevic and at the trial of the six former Serbian political, police and military officials charged with crimes in Kosovo.
Presiding judge Orie indicated the Trial Chamber would deliver a judgment 'in due time'.