Home
JOURNALIST BATON HAXHIU CHARGED WITH CONTEMPT OF COURT
Baton Haxhiu, journalist from Kosovo who testified as a prosecution witness at two trials before the ICTY, is charged with contempt of court for disclosing the identity of a protected witness in the trial of Haradinaj, Balaj and Brahimaj. His initial appearance is scheduled for tomorrow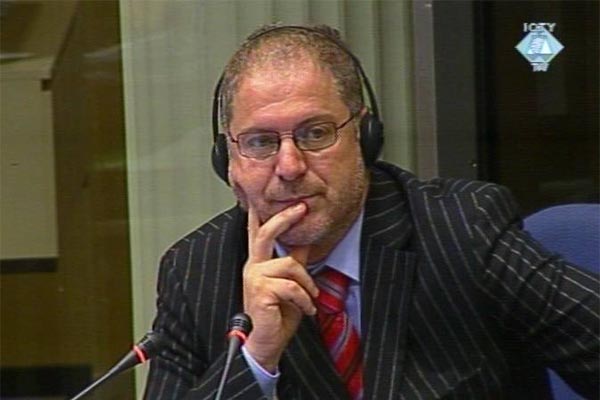 Baton Haxhiu in the courtroom
Famous Kosovo journalist Baton Haxhiu is charged with contempt of court because he has disclosed the identity of a protected witness at the trial of Ramush Haradinaj, Idriz Balaj and Lahi Brahimaj in the newspaper where he works as editor. The indictment, issued in April but unsealed today, alleges that Haxhiu committed the offence 'deliberately and intentionally', knowing that he was violating the order of the Trial Chamber by disclosing the witness's identity to the public.
The accused was arrested today on Kosovo. He will be transferred to The Hague where he is expected to enter his plea tomorrow at 14:15. This will be the third time Haxhiu is in The Hague: he has testified as a prosecution witness at the trials of Slobodan Milosevic and the Kosovo Six. This time, he will not be in The Hague voluntarily.
Haxhiu is the sixth Kosovo Albanian charged with contempt of court in relation to the Haradinaj, Balaj and Brahimaj trial. The charges against two unwilling witnesses were dropped soon after they agreed to give evidence. Shefqet Kabashi is awaiting trial as he persistently refused to testify. Former Kosovo culture minister Astrit Haraqija and Bajrush Morina have been indicted recently for trying to pressure a protected witness into not testifying in The Hague. Their trial is scheduled to open on 16 June 2008.
Last month, Ramush Haradinaj and Idriz Balaj were acquitted on all thirty seven counts in the indictment charging them with participation in the joint criminal enterprise resulting in the kidnapping, detention, torture and killing of Serbian, Albanian and Roma civilians. Lahi Brahimaj, the third accused in the case, was found guilty only of two instances of cruel treatment and torture in the Jablanica camp and was sentenced to six years in prison. In the statement of reasons, the Trial Chamber emphasized it was under 'a strong impression that the trial proceeded in an atmosphere in which the witnesses did not feel safe'.