Home
JOKIC PLEADS NOT GUILTY FOR CONTEMPT OF COURT
Former VRS Zvornik Brigade chief of Engineering sentenced to 9 years for aiding and abetting crimes in Srebrenica pleaded today not guilty for contempt of court. He was charged for refusing to testify at the trial of the Srebrenica seven. Jokic's trial is scheduled to open on 10 December 2007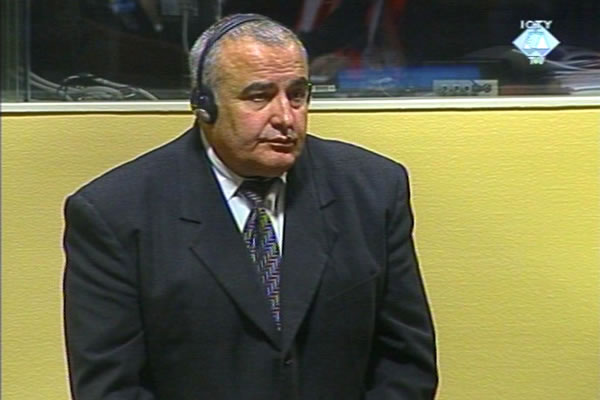 Dragan Jokic in the courtroom
Dragan Jokic, former engineer chief in the VRS Zvornik Brigade, today pleaded not guilty to all the counts in the indictment charging him with contempt of court for refusing to testify at the trial of seven Bosnian Serb military and police officers indicted for crimes in Srebrenica and Zepa.
After the accused Jokic pleaded not guilty, Branislava Isailovic, his defense counsel, asked for the trial to be postponed by three weeks to allow her to prepare the defense. She announced she would be calling one witness and one expert. She might also tender a few written statements. The Trial Chamber granted her request and set the trial date for 10 December 2007.
Dragan Jokic was sentenced to nine years in prison for aiding and abetting the killing, extermination and expulsion of Bosniaks from Srebrenica in July 1995. He is currently in the UN Detention Unit awaiting transfer to a country where he would serve the rest of his sentence. In October 2007, the Trial Chamber issued a subpoena compelling him to testify at the trial of the Srebrenica seven. He was granted the strictest identity protection measures. His whole evidence was to be heard in closed session.
However, on two occasions, on 31 October and 1 November 2007, Jokic refused to read the solemn declaration and answer the question, saying he 'didn't feel able' to do so. In the opinion of the judges, he thus 'knowingly and willfully interfered with the administration of justice' which is qualified as contempt of court under the Rule 77 of the Rules of Procedure and Evidence.