Home
FORMER KOSOVO MINISTER INDICTED
Astrit Haraqija, former Kosovo minister of culture, youth and sport, and his associate Bajrus Morina are charged with contempt of court. The prosecution alleges that they pressured a protected witness not to testify at the trial of Haradinaj, Balaj and Brahimaj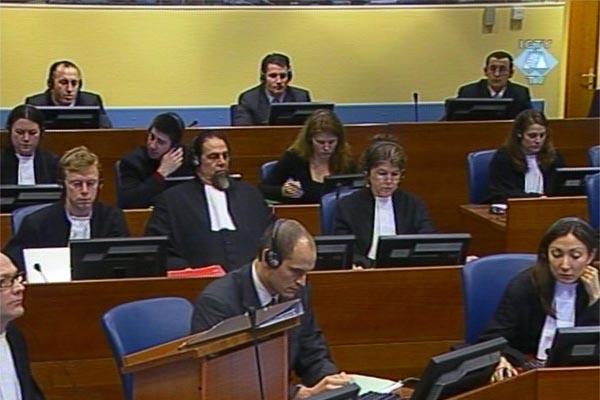 Ramush Haradinaj, Idriz Balaj i Lahi Brahimaj u sudnici Tribunala zadnjeg dana suđenja
The Trial Chamber that tried Ramush Haradinaj, Idriz Balaj and Lahi Brahimaj unsealed today the indictment, issued on 8 January 2008, charging Astrit Haraqija, Kosovo minister of culture, youth and sport, and his associate Bajrush Morina with contempt of court. They are indicted for attempting to pressure the protected witness with pseudonym PW into not giving evidence at the trial of Ramush Haradinaj, Idriz Balaj and Lahi Brahimaj.
The indictment alleges that Haraqija was one of the three founders of the Committee for the Defense of Ramush Haradinaj, an organization aimed at assisting the defense counsel of the former prime minister. Haraqija did not gather evidence: he had different ideas about how to help the defense. In July 2007, he ordered Morina to travel to the country where protected witness PW lived and persuade him not to come to The Hague. Morina's mission was not successful as the witness appeared before the Tribunal.
The problems the prosecution faced with witnesses at the trial of Haradinaj, Balaj and Brahimaj has so far resulted in three public indictments for contempt of court. In all three cases the witnesses refused to testify despite the subpoenas issued by the Tribunal. Whether under pressure or not, former KLA members Avni Krasniqi, Sadri Selca and Sefqet Kabashi refused to give their evidence. Krasniqi and Selca were arrested in November 2007 and brought to The Hague. After they changed their minds in the UN Detention Unit and decided to testify, the charges against them were dropped.
Kabashi took shelter in the USA. He hasn't changed his mind about refusing to testify and the indictment against him is still in force. In June 2007, Kabashi did appear before the court. To clarify his decision not to answer the prosecution's question, he said that 'witnesses are being killed' in Kosovo, adding that protective measures 'don't really exist outside of the courtroom'.
In early April 2008, Ramush Haradinaj and Idriz Balaj were acquitted on all thirty-seven counts in the indictment charging them with participation in the joint criminal enterprise which resulted in the kidnapping, detention, torture and killing of Serbian, Albanian and Roma civilians. The third accused Lahi Brahimaj was found guilty of only two instances of cruel treatment and torture in the Jablanica camp and was sentenced to six years in prison. In the statement of reasons, the Trial Chamber noted that it had 'a strong impression that the trial proceeded in an atmosphere in which the witnesses did not feel safe'.