Home
CONTROVERSIAL INTERVIEWS AT KOSOVO SIX TRIAL
Despite the objections of the defense, the prosecution insists that the statements given by Nebojsa Pavkovic and Sreten Lukic to the OTP be tendered into evidence. The defense believes these interviews cannot be used to prove the guilt of the other four accused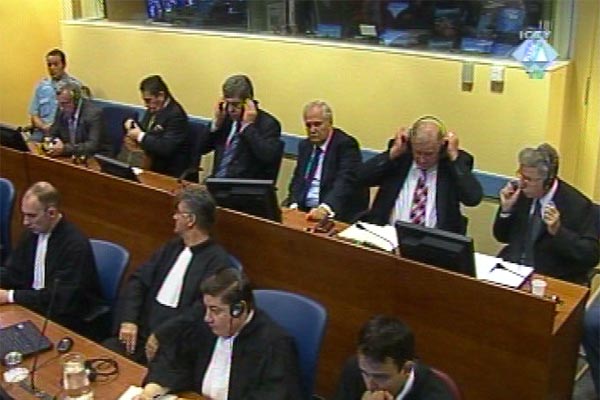 Milan Milutinovic, Nikola Sainovic, Dragoljub Ojdanic, Nebojsa Pavkovic, Vladimir Lazarevic and Sreten Lukic in the courtroom
At today's hearing at the Kosovo Six trial, former Serbian officials charged with crimes against Albanian civilians in 1999, there was a debate on the prosecution motion to admit into evidence the interviews the two accused – military general Nebojsa Pavkovic and police general Sreten Lukic – gave to the OTP before they were indicted by the Tribunal. The defense opposes this request and particularly objects to their use as the evidence against the remaining four accused.
After both sides briefly presented their legal arguments on the issue, the hearing went on in closed session. The presiding judge indicated later that the Trial Chamber would reach its decision within the next ten days. Until now, neither the prosecution nor the defense have referred to Pavkovic's and Lukic's controversial interviews.
Six former Serbian politicians and generals are charged with persecution, murder, deportation and forcible transfer of Kosovo Albanians in 1999. The indictment is issued against former Serbian president Milan Milutinovic, former FRY deputy prime minister Nikola Sainovic, three military generals: Dragoljub Ojdanic, Nebojsa Pavkovic and Vladimir Lazarevic, and police general Sreten Lukic. The trial resumes on 1 April 2008 as Sreten Lukic's defense goes on with its case.